Chandrayaan-3 Moon Landing's Ripple Effect, 10 Space-Associated Stocks That Skyrocketed
26 August, 2023 | Vishakha Ahuja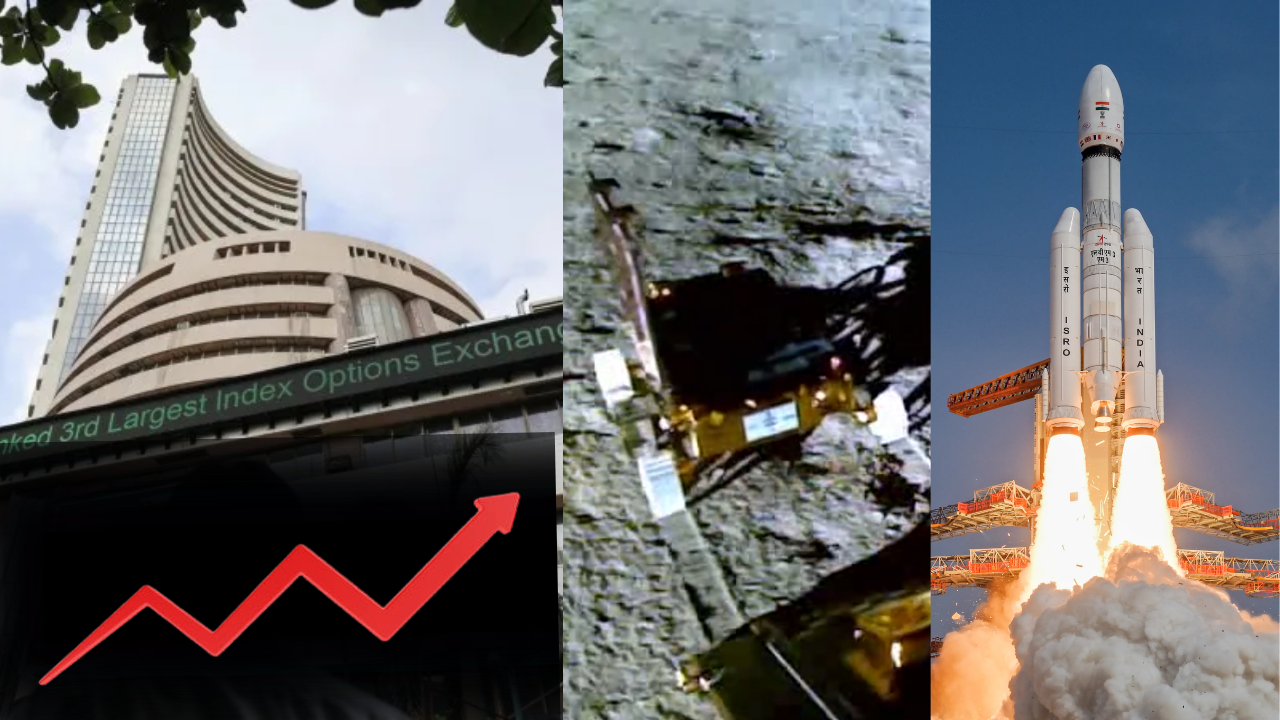 According to analysts, several space-related stocks, despite their recent upward trajectory, remain reasonably priced.
India's achievement of being the inaugural nation to explore the previously untouched southern region of the moon through the successful landing of Chandrayaan-3, a new trend of "over the moon" investing emerged on Dalal Street. On Thursday, stocks belonging to firms involved in ISRO's lunar mission experienced a surge of as much as 12%, as investors allocated additional attention to companies that are banking on India's prowess in the cosmic domain.
Presented below is an assemblage of stocks that have come into focus following the triumphant accomplishment of Chandrayaan-3's mission.
Godrej Industries
Godrej Aerospace, a subsidiary of the Godrej Group, provided crucial components to ISRO. Over the past thirty years, the company has played a significant role by contributing to more than 175 engines for both Polar Satellite Launch Vehicle (PSLV) and Geosynchronous Satellite Launch Vehicle (GSLV) missions. The stock of Godrej Industries witnessed a 7% surge in value yesterday and continued with an additional 3% increase today. However, the company has communicated to the stock exchanges that the rise in the stock price isn't attributed to any undisclosed information.
Avantel
Avantel, an aerospace and defense company located in Hyderabad and a client of ISRO, saw its stock trading with a more than 8% increase today.
Centum Electronics
The firm, engaged in the design, development, and manufacturing of electronic systems for space applications, surged by 14% in the previous day and followed it with an additional 10% rally today.
Bharat Electronics
Reports suggested that the company participated in producing payloads for Chandrayaan-3. Presently, the stock observed a 2% increase in trading today.
BHEL
State-owned enterprise Bharat Heavy Electricals (BHEL) provided Chandrayaan-3 with titanium tanks and batteries. The shares of BHEL experienced a 1% increase in trading.
Mishra Dhatu Nigam
Mishra Dhatu Nigam, a PSU metal manufacturing company headquartered in Hyderabad, delivered essential materials like cobalt base alloys, nickel base alloys, titanium alloys, and specialized steels for different segments of the launch vehicle utilized in the moon expedition.
Paras Defence and Space Technologies
The corporation, focusing on defense and space optics, defense electronics, and heavy engineering, provided the navigation system for Chandrayaan-3. Following a 5% surge yesterday, the stock exhibited a rise exceeding 12% today.
MTAR Technologies
MTAR played a role in providing components like Vikas engines and subsystems for cryogenic engines, encompassing turbopumps and booster pumps. Additionally, the company furnished the engine for PSLV-C25, employed in the Mangalyaan mission. The company's stocks concluded 5% above the previous day's value and witnessed a remarkable surge of 8% today.
Hindustan Aeronautics (HAL)
The state-owned enterprise supplied mechanical hardware for the lunar expedition. Following a 3.6% increase in value yesterday, the stock recorded an additional uptick of 1%.
L&T
Larsen & Toubro's (L&T) aerospace division played a pivotal role by delivering essential elements, overseeing the production and testing of booster segments, and orchestrating the integration of Chandrayaan-3's launch vehicle. The substantial stock has witnessed an approximately 3% increase over two days.
According to analysts, several space-related stocks, despite their recent upward trajectory, remain reasonably priced.

Also Read: Muzaffarnagar Teacher Incites Students to Slap Muslim Classmate in Uttar Pradesh
Catch all the Latest Business News, Breaking News Events, and Latest News Updates on NewsX