Delhi sees 15 Incidents of building collapse amid record rainfall after four decades
10 July, 2023 | Anupam Shrivastava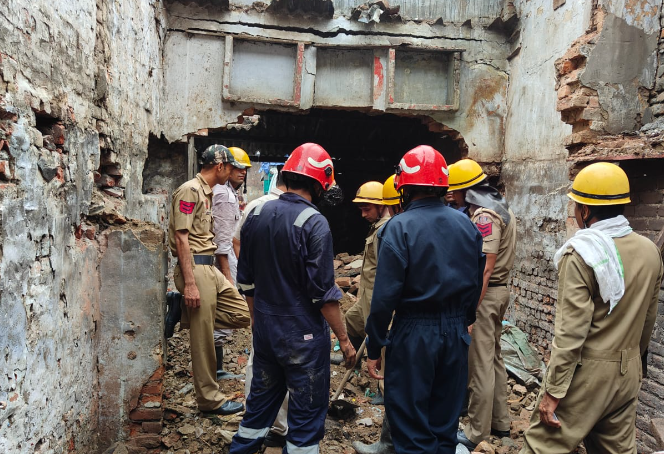 The building collapse incidents have led to death of two people while there were 7 wounded.
The recent heavy rainfall in the national capital has caused significant damage, resulting in 15 incidents of house collapse. These incidents have tragically led to 2 fatalities and 7 injuries, an official told on Sunday.
Atul Garg, the head of the Delhi Fire Service, acknowledged that during the past several days the department has received up to 15 reports about cases involving houses collapsing. He said that some of these events resulted in the firemen having difficulty getting to the scene due to significant and prevalent waterlogging.
"We received 15 such calls, the most in a single day. Some old, decrepit houses and some under-construction buildings couldn't sustain the heavy rainfall and collapsed. Further, on account of severe waterlogging, we had trouble reaching the spot," Garg informed on Sunday.
Building collapse incidents in Sunder Nagar, Tis Hazari and East of Kailash
In a separate instance, a wall collapsed at Delhi's Sunder Nagar market as a result of persistent, heavy rain. However, this incident did not result in any recorded casualties.
A wall of a veterinary hospital in Tis Hazari fell, leaving one person dead and another wounded, according to a Delhi Fire Services officer. Another instance included a government school's perimeter wall collapsing on Saturday owing to heavy rain at Garhi Jharia Maria, east of Kailash.
Atishi, the minister of education for Delhi, gave officials the order to audit all Delhi government and MCD schools in order to stop future incidences. "Many of our schools are very old. In two of such schools, walls, walls over 35-40 years old, collapsed. Delhi received 150 mm of rainfall in a 24-hour span, which was a record in 20 years. We have instructed officers to inspect all government and MCD schools and run necessary repairs so that such incidents could be prevented," the Education Minister said.
An official said that one lakh cusecs of water were released from the Hathinkund barrage at 4 pm, prompting the AAP administration in the national capital to issue a flood alert.
The official went on to say, "The water level of the Yamuna, in Delhi, is rising. It was recorded at 203.66 metres at the old railway bridge at 9 pm. The warning level of the Yamuna is at 204.50 metres and the danger level is at 205.33 metres. Water is continuously being released from the Hathinkund Barrage into the Yamuna."