6 killed in a road accident on Delhi-Meerut Expressway
12 July, 2023 | Aditi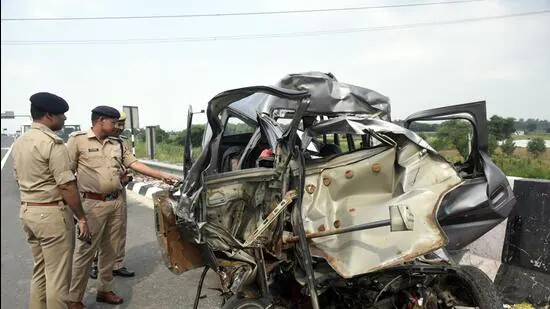 6 killed in school bus-car collision on Delhi-Meerut Expressway near Ghaziabad.
At least 6 people have died in an accident that took place on the Delhi-Meerut expressway on July 11, the police said.
The deceased includes two children and the two injured people are being treated in the hospital.
The fatal accident took place near Behrampur in Ghaziabad. CCTV cameras installed along the expressway captured the accident. Before the bus collides with the Mahindra TUV 300 in the 15-second video, at least two vehicles drive around the bus, which is travelling on the opposite side of the road.
A school bus collided with a car on the expressway. According to the police, the school bus was coming from the wrong direction and reportedly was empty. The bus reportedly belonged to Noida's Bal Bharti School.
Additional Deputy Commissioners of Police (ADCP) of Traffic, Ramanand Kushwaha said that the school bus and a TUV carrying eight people met with an accident at around 6 AM on July 11. He further added that six persons died and two are seriously injured.
ADCP Kushwaha said that the entire fault was of the driver who was coming from the wrong direction.