NewsX Big Debate: 600+ Armed Mob On Rampage
4 August, 2023 | Gautam Thakral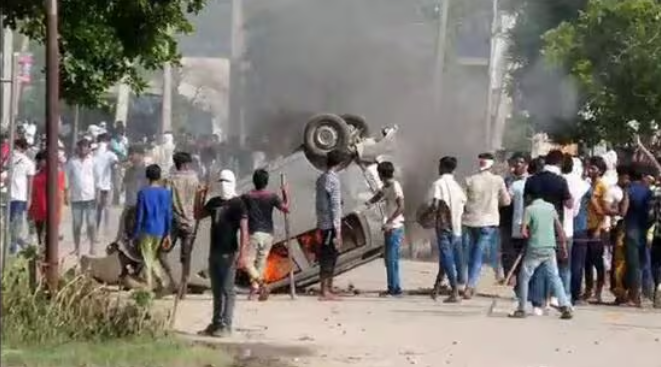 600+ Armed Mob On Rampage
In a surprising turn of events, Haryana witnessed a violent episode that resulted in the destruction of over 100 vehicles, multiple attacks on police and civilians, and six fatalities by angry mob. The crisis, which arose abruptly, resulted in the arrest of 163 people in Nuh, Gurgaon, Palwal, and other areas. Authorities are now striving to restore calm and restrict the spread of potentially incendiary material on social media.
More Arrests Need to be made
According to Gautam Mukherjee, senior journalist, it appears that the unrest was pre-planned, catching the police and local administration off-guard. The incident has prompted discussions about the motivations behind the attack, with one suspect being linked to the Congress party and another to a Bajrang Dal activist group. The incident has left the residents of Nuh seething with anger, primarily over a perceived crackdown on cybercrime.
Perpetrators/Mob need to be Punished
As the investigation continues, Major General Retired AK Siwach has called for swift action against the perpetrators. He highlights the upcoming G-20 meeting and the economic importance of Gurugram, a city that contributes 60-70% of the region's GDP. To restore order and prevent future incidents, he stresses the need to apprehend all those involved and hold them accountable.
Was Internet Shutdown Necessary?
Trishneet Arora, CEO of TAC Security, emphasized the significance of cybercrime in the unfolding events. He believes that cyber attacks have the power to spread misinformation both online and offline, making them a central point of concern.
Addressing the issue of internet shutdown during the unrest, Trishneet Arora expressed reservations. He argued that shutting down the internet would give leverage to cyber attackers, potentially allowing state-sponsored actors to target essential services or gain unauthorized access to sensitive information.
Despite the turmoil, Gautam Mukherjee maintains an optimistic outlook, stating that the incident is unlikely to affect the upcoming G-20 meeting. The authorities are now planning to deploy a thousand-strong paramilitary force in the Nuh area to quell any potential unrest in the future and ensure better preparedness.
While investigations continue to uncover the deeper motivations behind the attack by the mob, the focus remains on bringing the perpetrators to justice and preventing further escalation of violence. The situation serves as a stark reminder of the growing threat of cybercrime and the importance of effective law enforcement to maintain peace and stability in the region.
Also Read: NewsX Big Debate: Congress Takes 'Ganesh Insult' Dig At PM Modi
Catch all the Latest Business News, Breaking News Events and Latest News Updates on NewsX)