Flood crisis in Assam: Home Minister Amit Shah assures support
25 June, 2023 | Priya Rani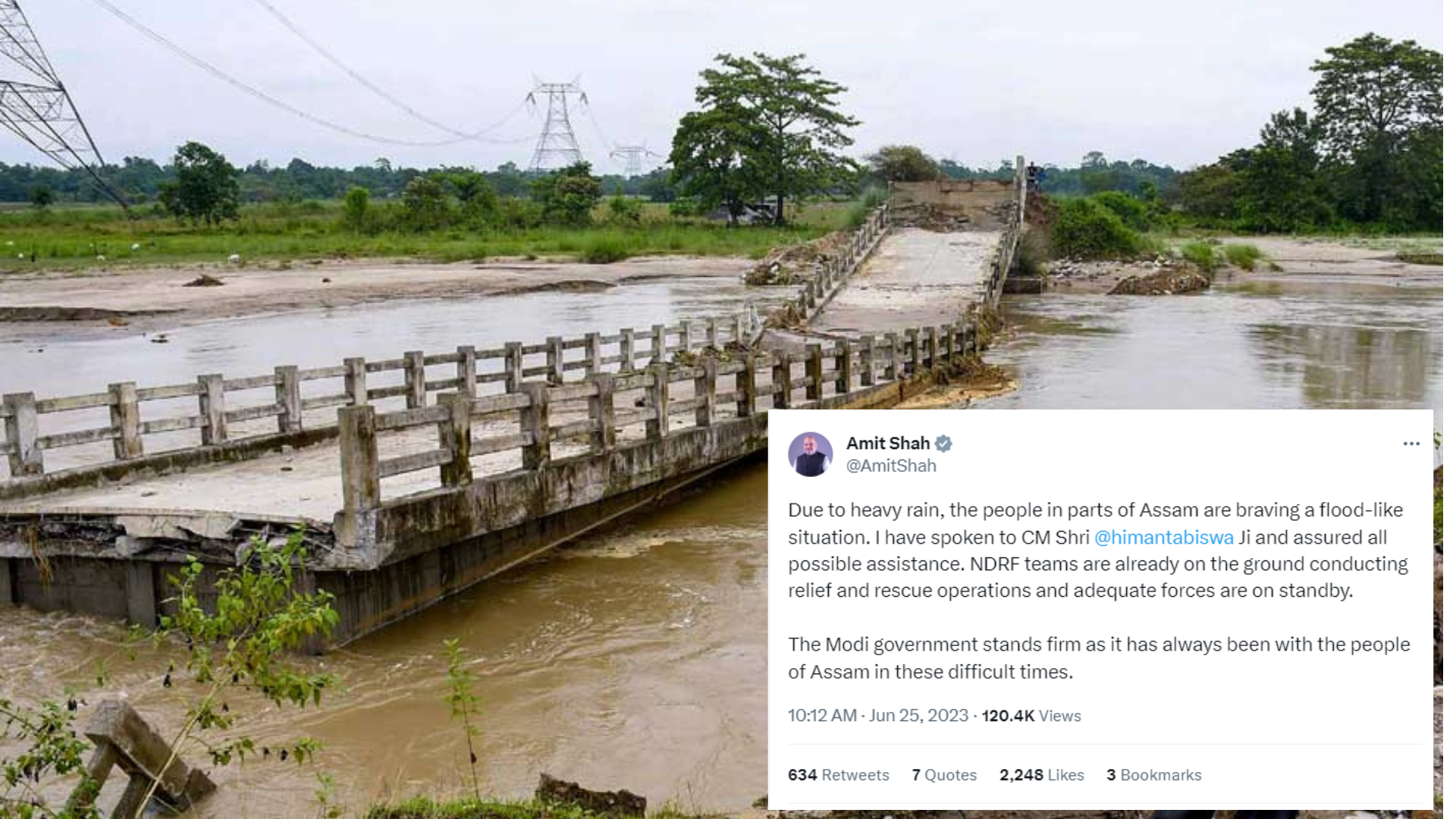 Although the flood situation in Assam has slightly improved, approximately 401,000 individuals across 15 districts are still affected
As the flood situation in Assam remains critical, Union Home Minister Amit Shah reached out to Chief Minister Himanta Biswa Sarma to assure him of all possible assistance. Shah took to Twitter to express the unwavering support of Prime Minister Narendra Modi's government for the people of Assam during these challenging times.
He tweeted, "Due to heavy rain, the people in parts of Assam are braving a flood-like situation. I have spoken to CM Shri @himantabiswa Ji and assured all possible assistance. NDRF teams are already on the ground conducting relief and rescue operations and adequate forces are on standby. The Modi government stands firm as it has always been with the people of Assam in these difficult times." The prompt response from the Home Minister was appreciated by CM Sarma, who expressed gratitude for the proactive concern shown by Shah towards the flood situation.
According to the Assam Disaster Management Authority (ASDMA), although the flood situation in Assam has slightly improved, approximately 401,000 individuals across 15 districts are still affected. Tragically, another fatality occurred in Nalbari district, bringing the total death toll to three.
The districts most severely affected include Bajali, Barpeta, Nalbari, Lakhimpur, Darrang, and Goalpara. Numerous villages and a significant amount of agricultural land have been submerged due to the overflowing Brahmaputra River and other water bodies. The district administration has set up 101 relief camps and 119 distribution centers to aid those affected, with thousands seeking shelter in these facilities. However, many others are still taking refuge on roads, highlands, and embankments.
In the past 24 hours, several embankments, roads, bridges, school buildings, and irrigation canals have been damaged or breached due to the relentless downpour and rising water levels. The Brahmaputra River has exceeded the danger mark at Neamatighat in Jorhat district and at Tezpur in Sonitpur district. Other rivers, including the Manas River, Pagladiya River, and Puthimari River, are also flowing above their danger levels, causing further concerns.
The government at both the state and central levels remains committed to providing assistance and support to those affected by the floods in Assam. Efforts are ongoing to mitigate the impact of the floods and ensure the safety and well-being of the affected population.