The Aam Aadmi Party (AAP) on Saturday released its third list of 21 candidates for the upcoming assembly polls in Rajasthan which is scheduled to be held on November 25 to elect all 200 members of the state's Legislative Assembly. The party has fielded Gurvinder Kaur Brar from Sadulshahar, Prof Sukhvinder Singh Vanar from Karanpur, Liladhar Swami from Suratgarh, Virender Meghwal from Pilibanga (SC), Umar Daraz from Adarsh Nagar, Mahaveer Prasad Rajoriya from Alwar Rural (SC) and Nand Lal Meena from Rajgarh Laxmangarh (ST)
Sunil Bairwa will contest from Kathumar (SC), Asharam Meena from Todabhim (ST), Akshayraj from Pushkar, Ram Niwas Rayal from Deedwana, Ganesh Meena from Degana, Gajender Singh Kukanwali from Nawan, Rana Khan from Asind, Kishan Lal Meena from Bundi and Om Gochar from Anta.
The party on Saturday released its second list of 21 candidates for the upcoming assembly polls in Rajasthan two days after releasing its first list.
Meanwhile the Congress on Friday released its third list of 19 candidates bringing the total number of nominees declared by the party to 95.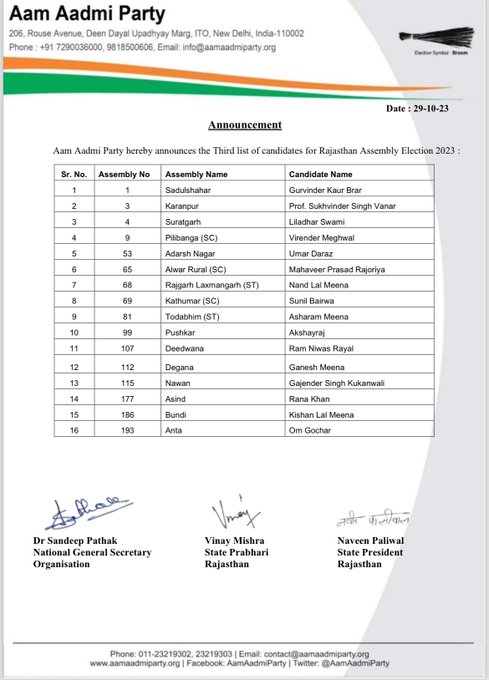 The list includes 13 sitting MLAs. Shobha Rani Kushwah is the Congress candidate from Dholpur. Kushwah was previously expelled from the BJP for cross-voting in the Rajya Sabha elections in June last year.
Earlier on October 22 the Congress had released its second list of 43 candidates, naming state ministers Pratap Singh Khachariyawas, and Govind Ram Meghwal.
The ruling party has fielded Govind Ram Meghwal from Khajuwala, Pratap Singh Khachariyawas from Civil Lines and Parsadi Lal Meena from Lolsot. The Congress had on October 21, released its first list of 33 candidates.
In the 2018 assembly elections, the Congress won 99 seats while the BJP won 73 seats in the 200-member house. Ashok Gehlot came to power with the support of BSP MLAs and independents.
Meanwhile, the BJP released its second list of candidates on October 21, with former Chief Minister Vasundhara Raje to recontest from Jhalrapatan. The party declared 83 candidates in the second list which has some prominent names including former Rajasthan BJP president Satish Punia, who has been fielded from Amber constituency.
The BJP had on October 9 released its first list of the 41 candidates. The polls for the 200-member assembly will be held on November 25.
The counting of votes will take place on December 3. Of the five states, polling in Chhattisgarh will be held in two phases.