Azali Assoumani, African Union President, Lands in Delhi for G20 Summit
8 September, 2023 | Akshara Tyagi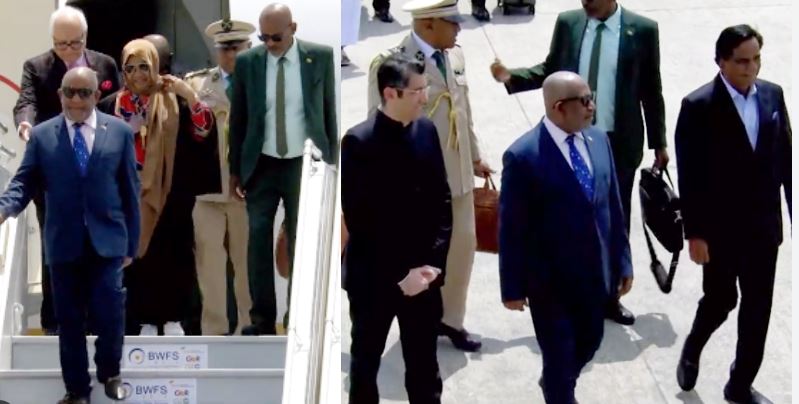 Azali Assoumani, President of the Union of Comoros and Chairperson of the African Union (AU), has arrived in the national capital, Delhi, to participate in this year's G20 summit
Azali Assoumani, President of the Union of Comoros and Chairperson of the African Union (AU), has arrived in the national capital, Delhi, to participate in this year's G20 summit hosted by India. Minister of State in the Ministry of Railways, Raosaheb Danve, welcomed him at the New Delhi airport.
In June 2023, Prime Minister Narendra Modi took a significant step in representing Africa's voice on the global stage, advocating for full membership of the African Union in the G20.
Modi has proposed that the African Union, consisting of 55 African countries, be granted full membership upon their request. This move is in line with India's commitment to creating a more just, equitable, inclusive, and representative global order.
Prime Minister Modi has consistently championed the cause of Africa and has actively worked to incorporate African priorities into the G20 agenda during India's G20 Presidency. He has also emphasized the importance of amplifying the voices of Global South countries, particularly African nations, on international platforms.
The inclusion of the African Union as a G20 member has garnered support not only from Prime Minister Modi but also from United Nations Secretary-General Antonio Guterres, who expressed his enthusiasm for this development.
India is hosting the G20 Leader's Summit in the national capital, Delhi, at the newly inaugurated Bharat Mandapam on September 9-10. The summit will see the participation of more than 30 heads of state, top officials from the European Union, invited guest countries, and 14 leaders of international organizations.
Also Read: Arrival of Global Leaders in India begins, Various Ministers Set to Receive Dignitaries
Catch all the Latest Business News, Breaking News Events, and Latest News Updates on NewsX