Akhilesh Yadav Addresses Key Political Alliances and Prime Ministerial Choices in NewsX Festival of Ideas
24 August, 2023 | Anupam Shrivastava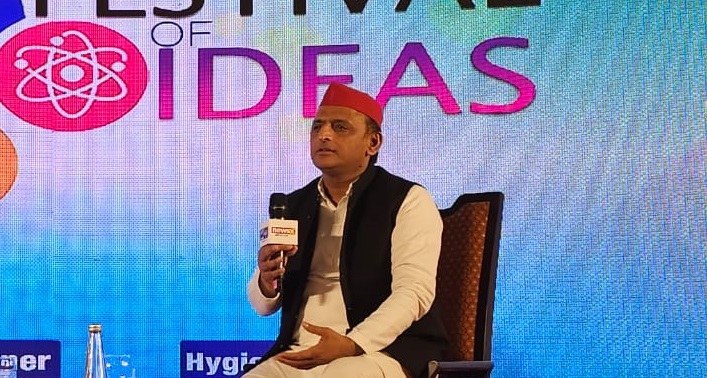 Akhilesh Yadav's statements in the NewsX Festival of Ideas provide valuable insights into his approach to political alliances, his assessment of the strengths within the I.N.D.I.A coalition.
As part of the Festival of Ideas, former Chief Minister of Uttar Pradesh, Akhilesh Yadav, shared his insights on various political issues, including alliances, electoral strategies, and potential Prime Ministerial candidates. The seasoned politician spoke candidly about his past experiences and future plans for the Samajwadi Party (SP) in the upcoming elections.
On Rahul Gandhi, Amethi and Seat Sharing
Akhilesh Yadav's comments on the Congress alliance and seat sharing reflect the intricacies of coalition politics. In the 2017 elections, he had allocated 100 seats to the Congress party. However, he expressed dissatisfaction with their performance in delivering on those seats. Akhilesh Yadav discussed the dynamics of his party's alliance with the Congress, stating, "I did have issues with Congress in 2017 when I gave them 100 seats but they could not deliver that."
This suggests that the alliance faced challenges and possibly lacked coordination. Despite this past setback, Akhilesh's statement about things changing now hints at a willingness to reevaluate and possibly rekindle the alliance with Congress, especially if they propose contesting from traditional strongholds. This underscores the importance of strategic seat allocation to maximize electoral success and strengthen potential alliances.
Mayawati and Alliance Dynamics
Akhilesh Yadav's reflections on his relationship with Mayawati highlight the complexities of forming and maintaining political alliances. He acknowledges that their alliance has experienced ups and downs, as indicated by their contrasting seat outcomes in past elections. While Akshilesh's party faced setbacks, Mayawati's party managed to secure seats. Reflecting on the ups and downs of his alliance with Mayawati's party, Yadav stated, "My experience with Mayawati is in front of everyone. While I lost all my seats, she reached 0-10."
Despite the challenges, Akhilesh Yadav emphasizes the enduring nature of their alliance, indicating that it is not only based on electoral outcomes but also on shared ideological and social goals, particularly in relation to the legacy of B.R. Ambedkar ("Baba Saheb"). Akhilesh's commitment to the alliance remains strong, as he clarified, "She may have broken the alliance, but Samajwadi Party has not broken the alliance with people who follow the direction of Baba Saheb. We will strengthen this relation more."
Diverse Prime Ministerial Choices and I.N.D.I.A Alliance
Akhilesh Yadav discussion about potential Prime Ministerial candidates within the I.N.D.I.A alliance showcases the diversity of options available. By mentioning a young candidate, a woman candidate, and individuals with strong work records and varied beliefs, he underscores the inclusivity of his coalition.
"If you want a young PM, we have a woman candidate, someone who has worked a lot, someone who believes in religion and caste. We have all these choices," Akhilesh stated. This highlights the idea that the alliance represents a range of demographics and perspectives, potentially appealing to a broader voter base. This statement serves as a strategic move to showcase the I.N.D.I.A alliance's ability to present a multitude of capable leaders, which could attract voters from different backgrounds.
BJP's Internal Challenges
Akhilesh's critique of the BJP's internal challenges highlights his perspective on the internal conflicts within the rival party. In his commentary on the BJP, Yadav remarked, "Even if they do, then the double engine is crashing with each other." Here the term "double engine" typically refers to the combination of the central government and the state government, both being led by the BJP.
Akhilesh asserted that these "engines" are crashing into each other suggests that there might be discord or competition between the two levels of leadership, possibly affecting the party's efficiency and focus. This observation serves as a critique of the BJP's ability to manage its power structures and maintain a cohesive approach.
In summary, Akhilesh Yadav's statements in the NewsX Festival of Ideas interview provide valuable insights into his approach to political alliances, his assessment of the strengths within the I.N.D.I.A coalition, and his critique of the challenges faced by the BJP as the 2024 General Election inches closer. These statements reflect his strategic thinking and vision as a key player in the Uttar Pradesh political landscape.

Also Read: Indian Communities Continue to Be the Building Block of India-Kuwait Relations: MOS, V Muraleedharan
Catch all the Latest Business News, Breaking News Events, and Latest News Updates on NewsX