Allahabad HC: Gyanvapi mosque ASI survey postponed till July 27
26 July, 2023 | Srishti Ruchandani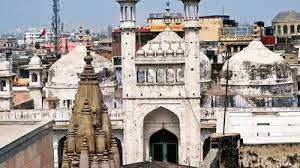 The Allahabad High Court has scheduled a hearing on Thursday at 3:30 p.m. and temporarily stopped the survey of the Gyanvapi mosque complex that had been mandated by a Varanasi court.
On Wednesday, the Allahabad High Court extended the stay on the Archaeological Survey of India's (ASI) examination of the premises of the Gyanvapi mosque in Varanasi until July 27. The issue will be heard in court on Thursday at 3.30 PM, according to Chief Justice Pritinker Diwaker.
The HC was hearing a plea by the Anjuman Intezamia Masjid, which manages the mosque, challenging the Varanasi District Court's order allowing ASI survey of the masjid premises (except the wuzukhana).
 The mosque committee petitioned the HC After the Supreme Court ordered to postpone the ASI survey until July 26 to allow them time to file an appeal against the lower court's ruling.
The Chief Justice directed the ASGI (representing the ASI) to call upon an ASI official from Varanasi prior to the court with an affidavit explaining the structure and details of the proposed survey of the mosque.
According to the ASI official, the study will be conducted using modern technology, and the structure would not be damaged. Only 5% of the survey had been finished, according to the official, and ASI would finish the remaining work by July 31.
The masjid committee stated throughout the hearing that the scientific survey might damage the mosque. Senior lawyer SFA Naqvi, the committee's counsel, requested the High Court to set aside the July 21 order of the Varanasi court, saying it had acted in urgency.
The senior lawyer added that because the parties weren't asked to provide evidence, the survey order was made at a very early stage.
Advocate Vishnu Jain, who is defending the Hindu side in the Gyanvapi mosque controversy, stated that the Solicitor General had already assured the Supreme Court on Monday that there would be no damage to the mosque, and no excavation would be conducted. Jain also claimed that an ASI survey was carried out in the Ram Mandir case and accepted by both the High Court and the Supreme Court.