Amit Shah slams 10 years of Congress rule, terms it 'period of increasing poverty'
10 June, 2023 | Anupam Shrivastava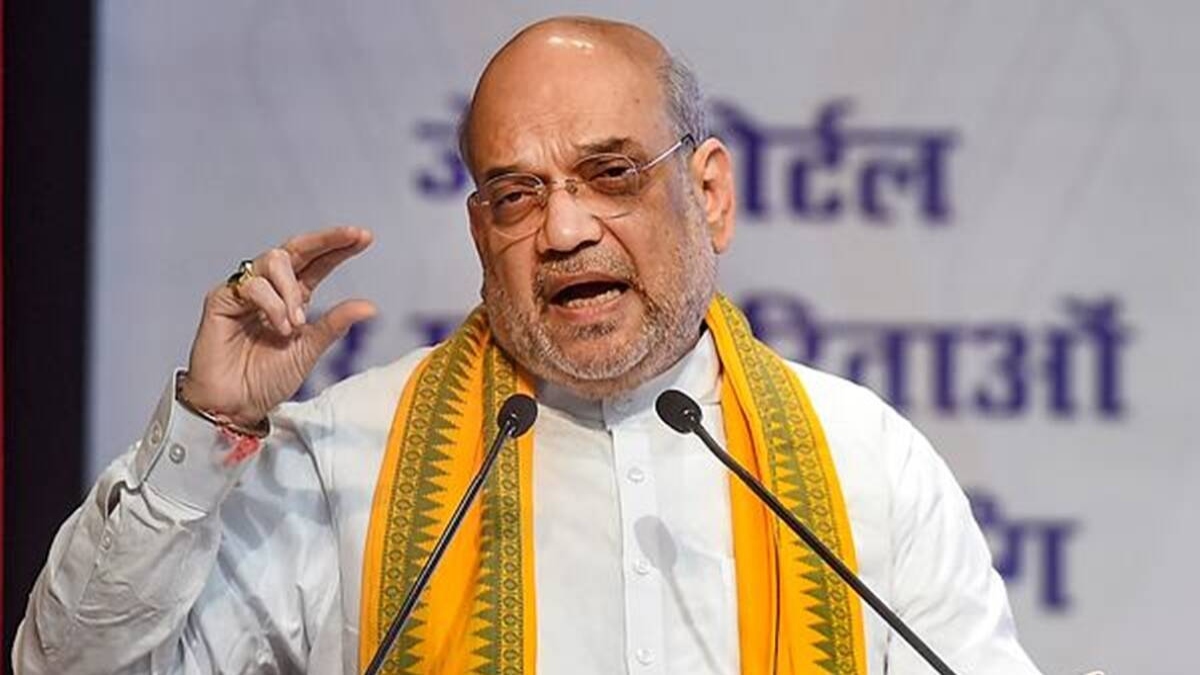 Home Minister Amit Shah is on a two day tour of Gujarat, Maharashtra, Tamil Nadu, and Andhra Pradesh
Union Home Minister Amit Shah lashed out at the Congress on Sunday, saying that the grand old party's ten years in power were a period of rising poverty, but the BJP's nine years in power had been a source of pride for India.
Amit Shah was speaking at a public assembly in Nanded, Maharashtra, to mark the end of the Modi government's ninth year in office. Shah said, "The 10 years of the Sonia-Manmohan government were a period of increasing poverty in the country whereas, during 9 years of Modiji's government, a lot of poor welfare works were undertaken."
"The last 9 years of PM Modi-led Government are the years of India's pride, of India's development, of India ensuring the welfare for poor. Only after Sonia-Manmohan rule ended and Modi Ji took command did India make progress and ensure development," Shah added.
In a tirade on Uddhav Thackeray for his stance on quota, he stated that the BJP feels that Muslim reservation is unconstitutional. "BJP believes that there should not be Muslim reservation as it is against the Constitution. Religion-based reservations should not happen. Uddhav Thackeray should make his stand clear on this," Amit Shah went on to say.
"Uddhav ji – We abolished triple talaq… do you agree with that or not? – Do you agree with the Ram temple being built or not? Do you clarify whether you want Common Civil Code or not? – You tell whether Muslim reservations should be there or not?" Amit Shah questioned.
Praising the PM's efforts, Amit Shah stated that India's culture and legacy are being best maintained under PM Modi's vibrant leadership.
"India's culture and heritage are being best preserved under the strong and dynamic leadership of Modi Ji. The last 9 years of the BJP government have ensured poor welfare and good governance in a true sense," the Home Minister told.
Prime Minister Narendra Modi made country proud in the world: Amit Shah
"Narendra Modi ji has done the work of respecting the country's culture and history, Narendra Modi ji has done the work of making the country proud in the world. Today, wherever he goes in the world, slogans of Modi-Modi ji are raised and this respect is not for Modi ji but for our people," he said.
He stated that every impoverished person should have access to clean drinking water, toilets, and free medical treatment up to Rs 5 lakh.
"Every poor person should get clean drinking water, toilets, free treatment up to Rs 5 lakh, 80 crore people should get free ration, every poor should get a house….," Amit Shah added.
"On the one hand, Modi ji is getting respect in the world, while on the other hand, Rahul Baba, the prince of Congress, is doing the work of insulting the country. They don't speak here, they go abroad and speak… because there are very few people left to listen to them in the country," he told.
Rahul Gandhi had lambasted the Rashtriya Swayamsevak Sangh (RSS) and the Bharatiya Janata Party (BJP) during a six-day, three-city visit to the United States.
"The central architect of modern India, Mahatma Gandhi, was an NRI. The foundation for India's freedom movement was laid in South Africa…Nehru, BR Ambedkar, Sardar Vallabhbhai Patel, Subhash Chandra Bose, all were NRIs and had an open mind about the outside world," Rahul Gandhi had said.
Amit Shah visited the Takhat Sachkhand Shri Hazur Abchalnagar Sahib Gurudwara in Nanded, Maharashtra, earlier today. Starting Saturday, Shah will go to Gujarat, Maharashtra, Tamil Nadu, and Andhra Pradesh for two days.
Amit Shah, today planted seedlings at Gokul Global University in Gujarat's Patan. His gathering is part of the party's month-long push to commemorate the conclusion of Prime Minister Narendra Modi's nine-year tenure in office.
The Union Home Minister is also expected to speak at a protest in Nanded, the second largest city in the Marathwada district. It is home to one of the holiest pilgrimage places for Sikhs, as Guru Gobind Singh spent his last days in Nanded.
The Home Minister will arrive in Chennai late Saturday evening and meet with party officials on Sunday. He will also speak at a rally in Vellore, Tamil Nadu, to highlight the accomplishments of the BJP-led NDA administration at the Centre over the last nine years.
The rally is a component of the BJP's Tamil Nadu unit's plan to host 66 public gatherings in a month to promote the accomplishments of the Modi administration. Several BJP national officials would headline public meetings throughout the state over the course of a month.
On June 11, the Home Minister will go to Visakhapatnam, Andhra Pradesh, to attend a public assembly at the railway grounds as part of the countrywide festivities marking the end of the administration led by Prime Minister Narendra Modi's tenure.