AQUAKRAFT Press Release
1 August, 2023 | Anupam Shrivastava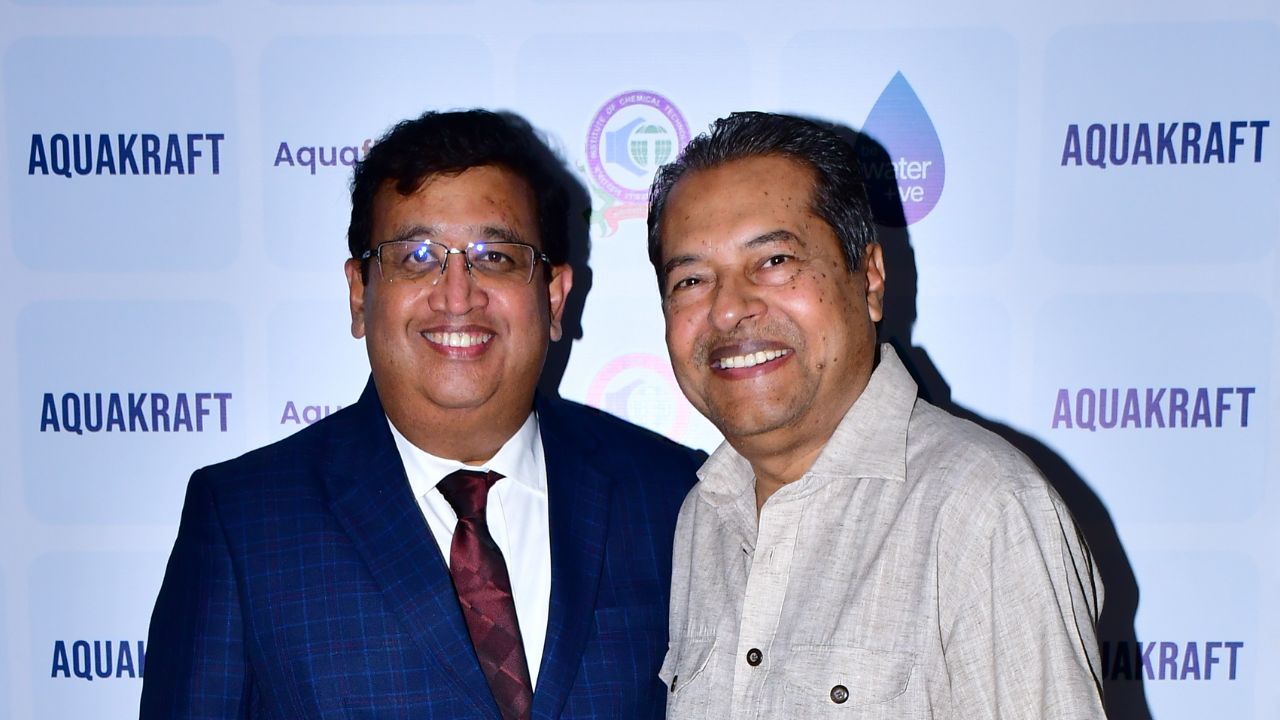 Dr.Subramanya Kusnur & Dr.Bhaskar Chatterjee at the launch of AQUAFLUENCE
AquaKraft Foundation today announced appointment of Dr .Bhaskar Chatterjee to its Board of Directors. Dr. Bhaskar Chatterjee (IAS retd.), who will lead as Non-Executive Chairman of the Board, is a vastly experienced former civil servant. Among the many distinguished positions held by him, was DG & CEO of the Indian Institute of Corporate Affairs, Ministry of Corporate Affairs where he spearheaded the National Foundation for Corporate Governance. He played a significant role in the drafting of the Companies Act 2013 and was instrumental in shaping the contours of the subject of Corporate Governance. He is widely acclaimed as the Father of Corporate Social Responsibility (CSR) in our country. He was instrumental in framing and issuing the CSR guidelines for Public Sector Enterprises (PSEs) in April, 2010. Thereafter, he played a major role in the inclusion of Section 135 in the Companies Act of 2013 and in the framing of the rules thereafter.
Speaking on his appointment, Dr. Bhaskar Chatterjee said " It is indeed a great opportunity to be a part of AquaKraft Foundation which has a clear mission and objective of democratising sustainability. One of its key differentiator is the selfless commitment towards sustainability by its founder Dr. Subramanya Kusnur, whom I have seen for over a decade relentlessly innovating sustainable models, thinking out of the box, much ahead of its time and consistently delivering impact at the last mile. This to my mind has developed an ideal platform to translate philanthropy & CSR into tangible social equity."
AquaKraft Foundation is a Section 8 company focused on augmenting the Human Development Index through interventions in WHEELS of LIFE where WHEELS is Water Healthcare Education Environment Sustainable development & LIFE is Laying India's Foundation for Excellence. AquaKraft in partnership with the International Indian Film Academy (IIFA) recently launched "Be Water+ve", a water sustainability advocacy program aimed to make 100 villages in India water+ve by 2026. This program is supported by the Ministry of Jal Shakti, Government of India and powered by AquaKraft Projects Pvt Ltd., an innovation driven enterprise driving sustainable solutions in drinking water & sanitation across India. The Foundation also provides accessible & affordable healthcare to the underprivileged in the slums of Mumbai through its Public Health Innovation, Gully Clinic funded under CSR. " We are highly honoured and privileged to have none other than the "Father of CSR in India" Dr. Bhaskar Chatterjee lead and guide us in democratising sustainability across stakeholders. His eruditeness, vast knowledge, versatile experience and most importantly a phenomenal human being, powered with empathy & humility is a testament to his developing one of the finest and most revered CSR policies in the world. Under his inspiration and leadership, AquaKraft Foundation will innovate the much needed "Social Governance Framework" embedded with transparency & accountability translating investments under CSR, CER & ESG to Social Equity and its valuation." said Dr. Subramanya Kusnur, Founder – AquaKraft Foundation.