Boland, Lyon orchestrate India's defeat as Australia lifts maiden World Test Championship title
11 June, 2023 | Anupam Shrivastava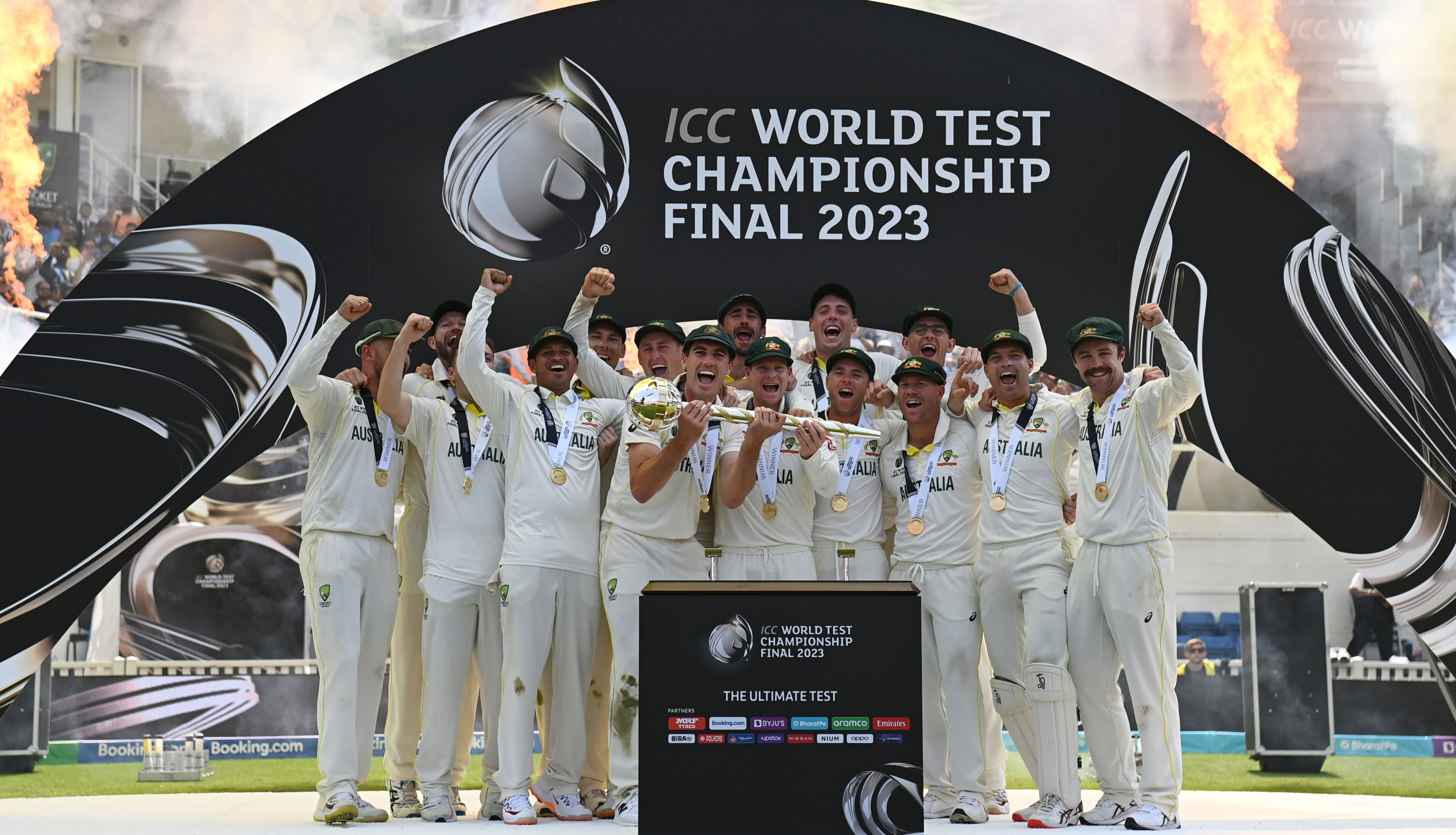 Australia defeated India in first of its kind maiden test championship after India's batting order collapsed against Kangaroo bowlers.
After prevailing over India over five days, Australia won their first World Test Championship 2023 championship on Sunday at the Oval in London.
India was defeated by a score of 234 in 63.3 overs, with Mohammad Shami remaining as the last man standing with a score of 13(8)*. Australia's talisman Scott Boland transformed the game's momentum in a single over by dismissing set batters Virat Kohli and Ravindra Jadeja.
Boland took advantage of Kohli's weak point by luring him into a cover drive. On any other day, Kohli might have chosen to play against the shot, but this time he couldn't resist the urge to use his favourite stroke.
He aimed for the shot but only found a thick edge towards the slip, so Steve Smith dove low to his right to make a spectacular grab. Kohli was one run away from his 29th half-century (49 off 78 balls) when he was bowled.
World Test Championship: Ajinkya and Shardul fought for the partnership
Ajinkya Rahane and Shardul Thakur made another attempt to form a partnership to keep India's innings in World Test Championship from unravelling. Their frantic onslaught, though, came to an end when Rahane was bowled by Mitchell Starc.
His dismissal was identical to Kohli's, an unnecessary shot that comfortably went behind the stumps. Rahane's miraculous comeback to the Indian Test team ended with a score of 46 (108). Nathan Lyon was called into the attack when Thakur went for a five-ball duck in the following over. Umesh Yadav and KS Bharat made it through a couple of overs.
But Umesh lacked no response to Starc's devastating speed bowling onslaught. Yadav returned to the pavilion with a score of one. With a loss on the horizon, Mohammad Shami thrilled the fans by hitting two straight boundaries. Siraj attempted a reverse sweep stroke, but the ball fell directly into the hands of Boland.
The Indian team's second innings in World Test Championship concluded with a score of 234 in 63.3 overs. Brief Scores: India (Virat Kohli 49(78), Ajinkya Rahane 46(108) and Nathan Lyon 4/41) vs Australia.