"Prepared to Uphold PM Modi's vision," States Banas Dairy Chairman Following Acknowledgment for 'Truck on Track' Initiative on 'Mann Ki Baat'
28 August, 2023 | Pooja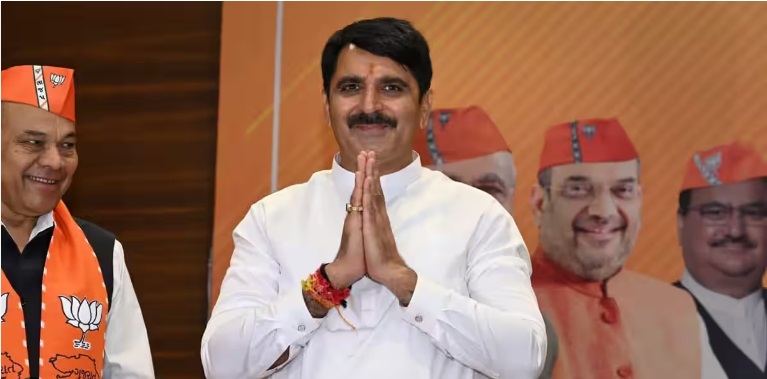 Banas Dairy head Chowdhary thanks Modi for acknowledging 'Truck on Track' initiative during 'Mann Ki Baat' radio program
Shankarbhai Chowdhary, the head of Banas Dairy, expressed gratitude towards PM Narendra Modi for acknowledging his 'Truck on Track' initiative during the recent broadcast of the monthly radio program 'Mann Ki Baat'. Chowdhary pledged to actively advance the Prime Minister's vision for the dairy sector.
Prime Minister Modi, while applauding the 'Truck on Track' endeavor, also hailed Banas Dairy for efficiently gathering 70 lakh liters of milk daily and ensuring its seamless transportation through this innovative project. In the past, Banas Dairy used to load milk onto trucks for road transport to other states, a process that consumed over 30 hours and risked spoilage along the way.
However, the 'Truck on Track' project has transformed the approach. Milk containers are now directly loaded onto trains, substantially reducing travel time to just half an hour. In the recent 'Mann Ki Baat' episode, PM Modi also commended the environmental conservation efforts led by Banas Dairy's chairman, along with their initiatives such as 'Seed Bal' and tree planting campaigns.
The Prime Minister lauded these praiseworthy endeavors, which have triggered a "green revolution" within the Banaskantha district. Acknowledging PM Modi's high praise for his 'Truck on Track' project and his environmental conservation effort, Chowdhary told ANI, "Banas Dairy is ready to take forward every idea and vision of the PM. All milk producers today are grateful for the honour being bestowed on them by the PM. We are committed to taking forward his vision for development and progress."
In his customary radio broadcast, Prime Minister Modi declared that India was fully prepared to welcome global leaders for the upcoming G20 Summit scheduled to take place in the national capital on September 9 and 10. Anticipating participation from more than 40 nations, including leaders and representatives, PM Modi highlighted that this summit in India is set to feature the largest attendance ever seen in the history of G20 Summits.
He underscored that India's G20 presidency is characterized as a "people's presidency," emphasizing the paramount role of public engagement in its proceedings.
"The month of September will give the world a glimpse of India's potential. We are fully prepared to host the G20 Leaders Summit next month in Delhi. Heads of 40 countries and many global organisations will be here to participate in the event. The event this year will see the biggest participation in the history of the G20 Summit," PM Modi said.\
Also Read: Death Toll in Bengal Duttapukur Firecracker Factory Explosion Climbs to 8
Catch all the Latest Business News, Breaking News Events, and Latest News Updates on NewsX