US President Biden Departs for G20 Summit in India
8 September, 2023 | Akshara Tyagi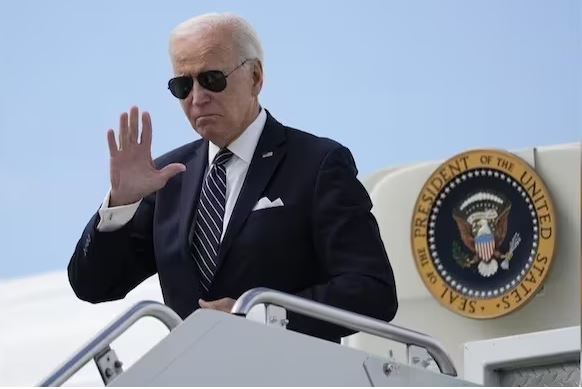 Joe Biden embarked on his journey to India on Thursday, September 7th, he departed from Andrews Air Base aboard Air Force One, headed for India to attend the G20 Summit
United States President Joe Biden embarked on his journey to India on Thursday, September 7th, he departed from Andrews Air Base aboard Air Force One, headed for India to attend the G20 Summit, scheduled to take place in New Delhi on September 9th and 10th.
Biden's tightly packed schedule spans three days, beginning with a stopover in Ramstein, Germany on Friday before his arrival in New Delhi on the same day.
On Friday, a White House press release confirmed that the US President is set to engage in a bilateral meeting with Prime Minister Narendra Modi.
The following day, Saturday, will feature Biden's official arrival and handshake with Prime Minister Narendra Modi. He will then take part in the G20 Leaders' Summit Session 1, titled "One Earth." Later in the day, he is scheduled to participate in the G20 Leaders' Summit Session 2, focusing on "One Family" within the G20 framework.
Biden will also attend a Partnership for Global Infrastructure and Investment event, concluding the day with a dinner and cultural program alongside other G20 leaders.
On Sunday, President Biden is slated to visit the Raj Ghat Memorial, joining other G20 leaders in this endeavor. Subsequently, he will travel from New Delhi to Hanoi, Vietnam.
In Vietnam, President Biden will participate in a welcome ceremony hosted by General Secretary Nguyễn Phú Trọng of the Communist Party of Vietnam. A meeting and joint remarks by President Biden and General Secretary Nguyễn Phú Trọng will follow, and a press conference is planned, as per the White House.
A White House official has disclosed that discussions between Joe Biden and PM Modi are expected to center on the G20 agenda, particularly focusing on economic cooperation and multilateral investment opportunities. Furthermore, the American leader is keen on advocating for multilateral development bank reform and reshaping.
John Kirby, National Security Council (NSC) coordinator for strategic communications, also noted that it's unlikely for PM Modi and President Biden to discuss climate issues and the ongoing conflict in Ukraine.
Initially, there were doubts about Biden's visit to India due to First Lady Jill Biden's positive COVID-19 test. However, President Biden has consistently tested negative, dispelling any uncertainties surrounding his visit to India.
Also Read: Airbus and Gati Shakti University University Sign MOU for Industry Collaboration in India
Catch all the Latest Business News, Breaking News Events, and Latest News Updates on NewsX