BJP criticizes Karnataka govt's decision to hike Nandini milk price
28 July, 2023 | Srishti Ruchandani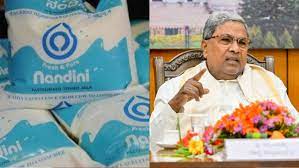 BJP MLC Chalavadi Narayanaswamy condemned the decision and said that the hike in milk price would affect consumers.
The decision taken by the Karnataka government to increase the price of Nandini milk by Rs 3 per litre appears to have sparked a political uproar in the state, with the opposition BJP criticizing the Siddaramaiah government and claiming that the rise will have an adverse effect on household budgets.
BJP MLC Chalavadi Narayanaswamy condemned the decision and said that the hike in milk prices would affect consumers. "First the government put Rs 170 per month for the purchase of rice by the state government. Now the price of milk has increased by Rs 3 per litre. In Karnataka, a family consumes approximately two litres of milk per day. That means a higher rate of Rs 180 per month will be given from August 1. In this too, the state government is making a profit of Rs 10," he said.
"We condemn the government that gives with one hand and takes back with the other," he added.
Nandini a product of the Karnataka Milk Federation (KMF) is currently retailed at Rs 39 a litre of toned milk and will now cost Rs 42 from the 1st of August.
The state government has however tried to defend the hike, saying that the cost of milk in Karnataka was still the lowest in the country.
Karnataka Chief Minister Siddaramaiah said, "Compared to other states, the price of milk is lower in Karnataka. This will benefit the farmers of the state."
Deputy Chief Minister DK Shivkumar on Thursday said that "We want to help farmers," after the Karnataka government announced a hike in the price of the state's milk brand, Nandini, by three rupees.
"We have to give money to the farmers. Throughout the country, the price of milk is Rs 50-56, and in our state, the price is very less. So, we want to help the farmers by increasing Rs 3," he said.
In Bengaluru, there seems to be a mixed opinion among people. While some say the middle-class budgets will be impacted, others are of the view that the hike is fine if it is meant for farmers' benefit.
The decision to increase Milk Prices was taken on Thursday in the cabinet meeting, in view of the demands of the milk producers.