Blasts reported on bridge between Russia and Crimea
17 July, 2023 | Bhavnish Tawar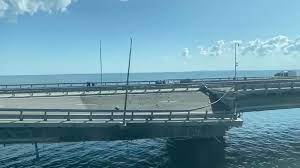 The Crimean Bridge was damaged by a pair of explosions that killed two people and injured a child on Monday.
Russian authorities reported on Monday that a family from the Belgorod area of Russia lost their lives, and their child was hurt when the Crimea Bridge was destroyed in an "emergency incident." However, there were explosions on the bridge, according to Ukrainian media.
According to the Wagner mercenary group's connected Russian Telegram channel, Grey Zone, two strikes were reported on the bridge at 03:04 a.m. (0004 GMT) and 03:20 a.m.Russian officials informed Reuters that traffic was stopped on the Russian-built bridge connecting Russia to Crimea, which Moscow seized in 2014. This was in claims of explosions. The Crimea Bridge is a vital supply route for Russian troops in Ukraine."We all began this morning with information about the crisis that occurred on the Crimean Bridge. We've all seen a video of a wrecked car with Belgorod licence plates on the internet," Belgorod's governor Vyacheslav Gladkov wrote."The girl was injured, but only slightly injured." According to him, the worst part was that both of her parents had passed away.
According to Vyacheslav Gladkov, a girl's parents were slain, and their kid was hurt in a passenger car on the bridge early on Monday. He made no mention of how the victims were killed.
According to Sergei Aksyonov, a governor placed by Russia, the emergency happened on the 145th pillar of the bridge connecting the Crimean peninsula to Russia's Krasnodar. He said nothing more and left it as that.
According to Russia's transport ministry, the bridge closest to the Crimean Peninsula has road damage. They claimed that the pillars were unharmed. According to Reuters, it did not specify what caused the damage.
According to the RBC-Ukraine news agency, explosions were reportedly audible on the bridge.
The military administration of Odesa in Ukraine's Serhiy Bratchuk uploaded a picture of what appeared to be a portion of the bridge broken on his Telegram account. Whether that was connected to an assault or not was not immediately apparent.
President Vladimir Putin took delight in completing the 19-kilometre road and rail bridge, which he crossed in a Mercedes in 2022 after repairs were made after an explosion.