I.N.D.I.A MPs' Visit to Manipur: Centre criticized for 'Pathetic' situation in the state
31 July, 2023 | Anupam Shrivastava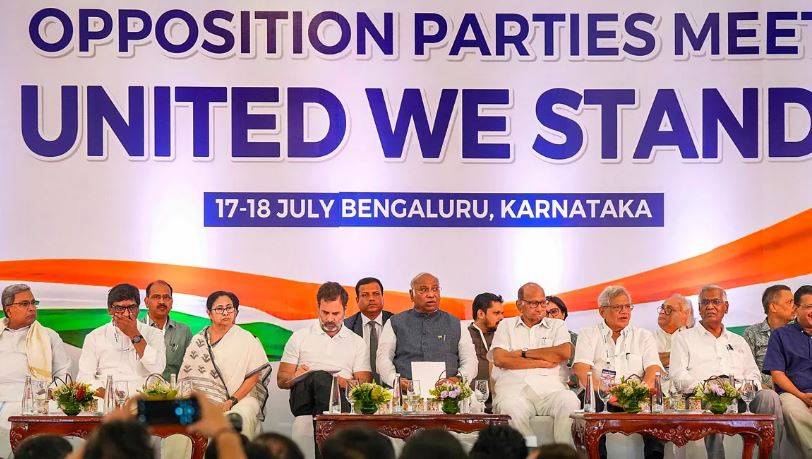 As Monsoon Session progresses, the situation in Manipur continues to be a major point of contention between Government and Opposition while seeking a resolution for ongoing crisis in the state.
A delegation comprising 21 Members of Parliament (MPs) from 16 different parties of the Opposition alliance, the Indian National Developmental Inclusive Alliance (INDIA), recently concluded a visit to Manipur on Sunday. The state has been grappling with ethnic clashes since May 3, leading to grave concerns about the security and well-being of the affected communities.
The delegation included prominent leaders such as Rajya Sabha MP Manoj Jha from Rashtriya Janata Dal (RJD), Sushmita Dev from Trinamool Congress (TMC), Sushil Gupta from Aam Aadmi Party (AAP), Adhir Ranjan Chowdhury and Gaurav Gogoi from the Congress, NK Premchandran from Revolutionary Socialist Party, Jayant Chaudhry from Rashtriya Lok Dal (RLD), Kanimozhi from DMK, and Thol Thirumavalavan from VCK, among others. Their primary objective was to assess the situation on the ground and offer their support to the affected communities.
Upon returning from the violence-hit region, RJD MP Manoj Jha urged the Kuki and Meitei communities to come together to restore peace and harmony in the state. He emphasized the importance of peace with justice, asserting that there is no alternative to peaceful coexistence between communities.
Several other leaders from the delegation, including Gaurav Gogoi, demanded that the central government and Prime Minister Narendra Modi pay a visit to Manipur to assess the ground reality. They expressed their concern about the lack of attention from the authorities and highlighted the urgent need for immediate action to end the ongoing conflict and provide relief to the affected people.
The delegation met with Manipur Governor Anusuiya Uikey and presented a memorandum requesting her intervention in restoring peace and normalcy. They urged for rehabilitation and resettlement of the affected individuals as a priority, stressing that justice should be the cornerstone of these efforts.
Following the visit, the MPs are scheduled to brief the Leader of Opposition, Mallikarjun Kharge, and other floor leaders of the INDIA alliance in Parliament on Monday. The Opposition has been adamant about discussing the Manipur situation during the ongoing Monsoon Session of Parliament, leading to disruptions in the proceedings.
The Opposition has demanded a detailed discussion on the situation in Manipur and a statement from Prime Minister Narendra Modi in both Houses of Parliament. The government has expressed its readiness for a debate on the issue but the Opposition has remained steadfast in its demand for the Prime Minister's statement.
As the Monsoon Session progresses, the situation in Manipur continues to be a major point of contention between the Government and the Opposition, with both sides seeking a comprehensive resolution to the ongoing crisis in the state.