Bhopal Science Centre Prepares for Chandrayaan-3 Soft Landing
22 August, 2023 | Muskan Menghani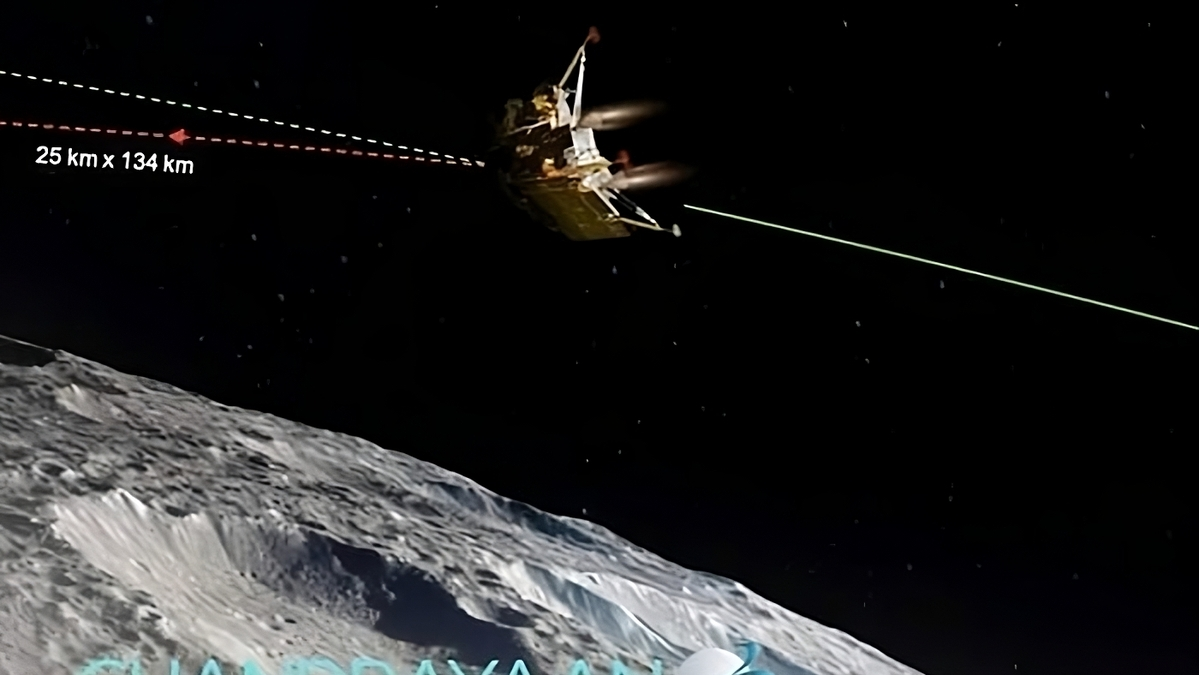 A Chandrayaan-3 replica has been created at the Bhopal Science Centre, with a screen mounted to display mission details
At the Bhopal Science Centre, a replica of Chandrayaan-3 has been created, and a screen has been mounted to display all available details on the mission.
"ISRO scientists have put a lot of effort into this, and it will succeed without a doubt. Due to the potential presence of water, the south pole of the moon is crucial. In addition, a screen has been put here that provides comprehensive information about the Chandrayaan-3 Mission, according to Saket Singh Kaurav, project coordinator at the Bhopal Science Centre.
All eyes will be on India's Chandrayaan-3 mission, which is scheduled to land on the moon on August 23, 2023 (Wednesday), at about 1804 IST, following the failure of Russia's Luna-25 mission.
In the meantime, ISRO stated the mission remains on track and systems are undergoing routine tests in its most recent report on Chandrayaan-3's safe landing.
On Wednesday, at 5:20 PM IST, the landing procedures will begin to be broadcast live. From 5:27 PM IST on August 23, 2023, live landing actions will be aired on the ISRO website, its YouTube channel, Facebook, and public television station DD National TV.
In addition to the mission update, ISRO also made available pictures of the moon taken by the Lander Position Detection Camera (LPDC) from a height of around 70 kilometers. These photos are compared to an onboard moon reference map to help the lander module determine its location (latitude and longitude).
Notably, the 'Vikram' lander module of the spacecraft successfully performed critical deboosting procedures and sank to a slightly lower orbit on Thursday after safely separating from the propulsion module. The Chandrayaan-3 mission's lander bears Vikram Sarabhai's name. Vikram Sarabhai, who lived from 1939 to 1971, is widely recognized as the founder of India's space effort.
The spacecraft was launched on August 5 into lunar orbit using a GSLV Mark 3 (LVM 3) heavy-lift launch vehicle, and since then it has been lowered closer to the moon's surface through a series of orbital maneuvers.
The Chandrayaan-3 mission was launched by the Indian Space Research Organisation on July 14 and has remained in orbit for one month and eight days. The Satish Dhawan Space Centre in Sriharikota, Andhra Pradesh, served as the launchpad for the spacecraft.
India's third lunar mission, Chandrayaan-3, has as its declared goals a gentle and secure lunar landing, lunar surface roving, and in-situ scientific investigations.
After the United States, Russia, and China, India will be the fourth nation in the world to accomplish this accomplishment, but it will be the only nation ever to touch down on the lunar south pole.
Also, Read: Steve Smith details wrist injury from Ashes 2023
Catch all the Latest Business News, Breaking News Events, and Latest News Updates on NewsX)