Chandrayaan-3: Vikram Lander Successfully Separates from Spacecraft
17 August, 2023 | Anamika Singh Parihar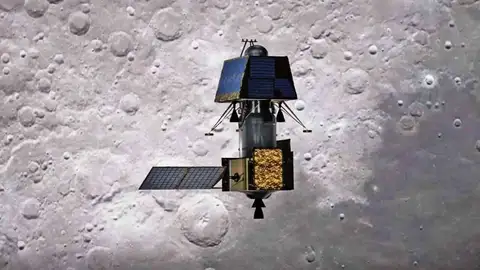 Chandrayan 3 detaches 'Vikram' lander module, advances lunar mission
India's Chandrayaan-3 mission took a significant step forward in its lunar mission by successfully detaching the 'Vikram' lander module from the propulsion module on August 17. The lander is named after 'Vikram' Sarabhai (1919-1971), a key figure and father of the Indian space program.
The Chandrayaan-3 spacecraft completed its last lunar-bound orbit reduction manoeuvre on August 16, a week before its planned landing on the moon's south pole on August 23. The spacecraft was launched into lunar orbit using a GSLV MARK 3 (LVM 3) heavy-lift launch vehicle on August 5. Subsequent orbital maneuvers have progressively brought the spacecraft closer to the moon's surface.
One month and two days have passed since the Indian Space Research Organization (ISRO) initiated the Chandrayaan-3 mission on July 14. The launch took place at the Satish Dhawan Space Centre in Sriharikota, Andhra Pradesh. ISRO aims to achieve a safe lunar landing, which would establish India as the fourth nation globally to do so, following the United States, Russia, and China.
Chandrayaan-3 is equipped with different electronic and mechanical parts to ensure a gentle and secure lunar landing. These components encompass navigation sensors, propulsion systems, guidance, control, and more. The mission's main goals involve a smooth and safe landing, moon surface exploration by a rover, and conducting scientific experiments on-site.
The sanctioned budget for Chandrayan-3 is Rs 250 crores, not accounting for the launch vehicle expenses. The project's development phase began in January 2020, targeting a launch in 2021. However, the mission faced an unexpected setback due to the Covid-19 pandemic, causing a delay in its advancement.
Chandrayaan-3 is ISRO's subsequent attempt following the difficulties encountered by Chandrayaan-2 during its gentle landing on the moon's surface in 2019, which ultimately led to its failure in fulfilling its main mission goals. Significant achievements from Chandrayaan-2 involve creating the first worldwide sodium map of the moon, improving our understanding of crater sizes, conclusively detecting water ice on the lunar surface using the IIRS instrument, and more.
Chandrayaan-1 completed over 3,400 orbits around the moon before losing communication on August 29, 2009, as reported by ISRO. Recently, ISRO Chairman S Somanath expressed confidence in Chandrayaan-3's advancement, confirming that all systems were on track as intended.
In the past, lunar spacecraft missions have mainly focused on the equatorial area because of its advantageous landscape and operational circumstances. Nonetheless, the lunar south pole offers a significantly distinct and tougher terrain in contrast to the equatorial zone.
Also Read: Indian Coast Guard Successfully Conducts Bold Mission to Rescue Chinese Citizen
Catch all the Latest Business News, Breaking News Events and Latest News Updates on NewsX)