China's Foreign Minister Qin Gang airs concerns in call with US's Antony Blinken
14 June, 2023 | Disha Singh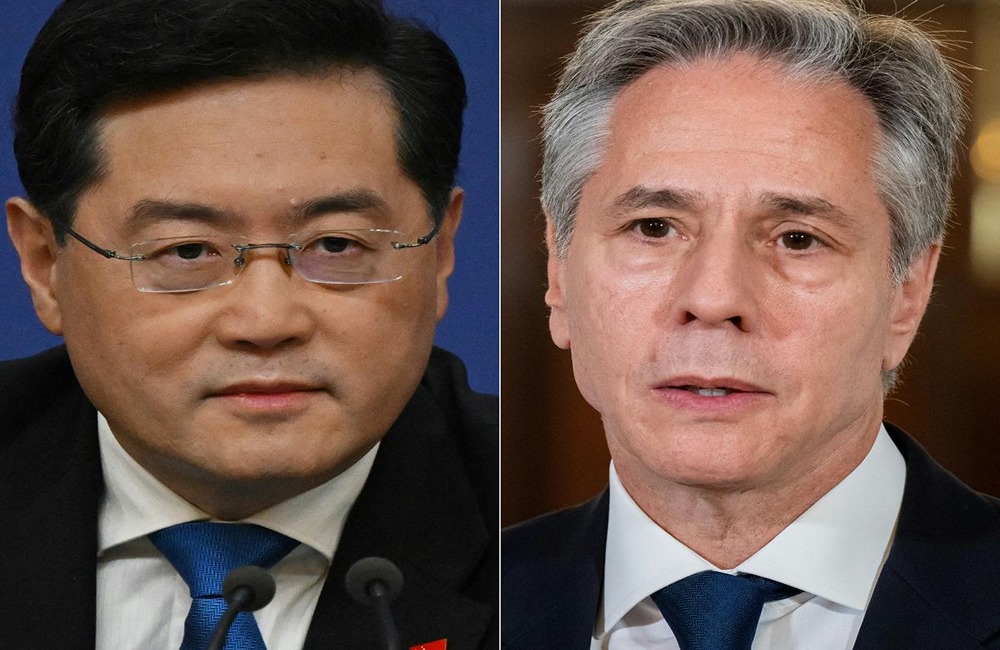 US's Antony Blinken and China's Qin Gang held a telephone call Wednesday, the highest-level talks in a recent flurry of diplomatic activity between the countries.
In a recent phone call between China's Foreign Minister Qin Gang and US Secretary of State Antony Blinken, Qin urged the US to refrain from meddling in China's internal affairs and undermining its security. He specifically mentioned that the US should respect China's core concerns, such as the Taiwan issue, and avoid actions that harm China's sovereignty, security, and development interests under the pretext of competition. The Chinese Foreign Ministry released a statement conveying Qin's message.
Blinken, on the other hand, emphasized the importance of open communication to prevent miscalculations and conflicts. He assured that the US would continue to raise concerns and explore opportunities for cooperation with China. The State Department confirmed this stance in a statement following the call.
If Blinken's upcoming visit to Beijing proceeds as planned, it will mark the first visit by a US Secretary of State to China in five years and the most significant visit during President Joe Biden's administration. The relationship between the US and China has been strained on various issues, including Taiwan, trade disputes, and the recent incidents involving suspected Chinese spy balloons in the US.
The Chinese Foreign Ministry has not yet disclosed detailed information about Blinken's visit, but a US official announced that the trip is scheduled for June 18. This visit was previously cancelled in February due to escalating tensions surrounding the spy balloon incidents.
China has been reluctant to engage in official exchanges with the US following the spy balloon incidents. However, last week, Daniel Kritenbrink, the Assistant US Secretary of State for East Asian and Pacific Affairs, visited Beijing, marking the highest-ranking US official's visit to China since the balloon incidents. The talks were described as "candid."
Visits to Taiwan by US politicians, including former House Speaker Nancy Pelosi in August of the previous year and current House Speaker Kevin McCarthy in April, have also strained US-China relations. China considers Taiwan as part of its territory and responded to these visits by conducting large-scale military exercises near the island.
Qin acknowledged that China-US relations have faced new difficulties and challenges since the beginning of the year. He emphasized the shared responsibility of both sides to effectively manage differences, promote exchanges and cooperation, and stabilize the overall relationship between China and the United States.