Congress got burnt by its own fire: Tejasvi Surya on Khakhi shorts meme
12 September, 2022 | Pranay Lad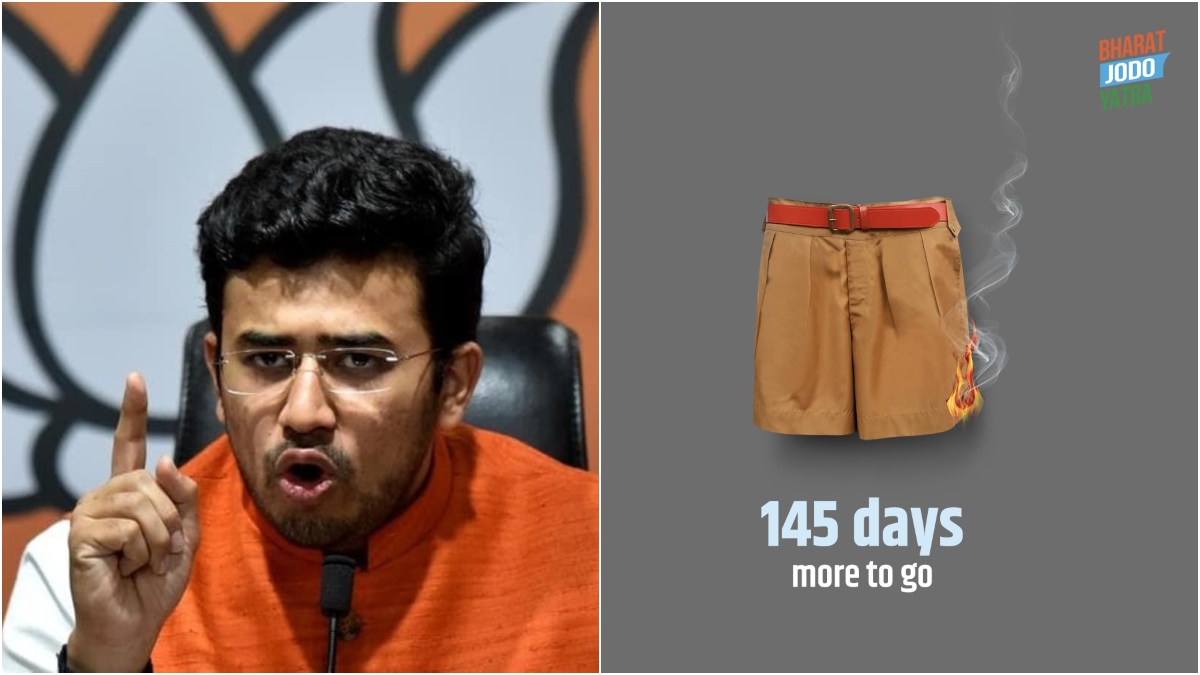 After Congress shared an image of a pair of RSS shorts burning on Twitter, a political argument ensued. Tejasvi Surya, president of the Bharatiya Janata Party Yuva Morcha, claimed that the image sh...
After Congress shared an image of a pair of RSS shorts burning on Twitter, a political argument ensued.
Tejasvi Surya, president of the Bharatiya Janata Party Yuva Morcha, claimed that the image showed how Congress' electoral fortunes in the nation were destroyed by the fire they had fueled.

To liberate the nation from the bonds of hatred and repair the harm caused by the BJP-RSS, Congress earlier today tweeted a photo of flame-lit "Khakhi" shorts with the caption, "Step by step, we shall attain our goal." The INC tweet was sent in light of the Bharat Jodo Yatra, which is currently on its sixth day.
"Fires they ignited in the past have burnt them across most of India," Tejasvi Surya quickly lamented in response to the tweet, adding that "the surviving members in Rajasthan and Chattisgarh would likewise turn to ashes very soon."

In a series of tweets, Survya mentioned several violent instances from the past, such as the Godhra incident in 2002, in which Karsevaks were burned alive, and the Delhi Sikh riots in 1984. Rahul Gandhi, who is leading the Yatra and is now in Kerala, came under fire from the BJP politician, who accused him of "fighting against the Indian state."
With Rahul Gandhi "fighting against the Indian State," Congress no longer qualifies as a political party with faith in constitutional means, according to a tweet from Surya. "Congress fire burned Delhi in 1984. Its ecosystem burned alive 59 Karsevaks in Godhra in 2002. They have again given their ecosystem a call for violence," Surya wrote.

The Congress and BJP resumed their verbal battle as Jitin Prasada, a member of the BJP's legislative council for the state of Uttar Pradesh, quickly responded to the Congress' tweet by saying that everyone should denounce the "politics of hatred."

"Political disputes are legitimate and reasonable, but what type of thinking calls for burning political opponents? This politics of negativity and hatred should be rejected by everybody," he wrote in a dig at the Indian National Congress.
Union Minister Ajay Bhatt on Sunday launched a scathing attack on Rahul Gandhi for meeting controversial Catholic priest George Ponnaiah and accused Congress of opposing every move Prime Minister Modi has made, including the removal of Article 370 from Jammu and Kashmir and the surgical strikes in Pakistan-occupied Kashmir (PoK).

In response to the contentious claim made by Catholic priest George Ponnaiah that "Jesus Christ is the real God, not like Shakti," Bhatt claimed that Rahul Gandhi is meeting "divisive personalities, Congress has consistently supported former party president Rahul Gandhi on the priest controversy, the party claims that they don't meet people after doing background checks, and in Parliament, their MPs sit with the worshipers of Godse."
Bhatt stated: "The fact that the Congress shows respect to those who have advocated for dividing the nation and who once predicted that it would be split into pieces demonstrates how effective their efforts have been in doing just that. Today, these same individuals are advocating for connecting India.
First and foremost, Congress needs to explain why they continue to employ folks who advocate fracturing our nation. Those who were leading large agitations and spoke about dividing the nation now claim to be trying to bring India together."
Amit Shah, the Union Home Minister, also made fun of Rahul Gandhi while he was in Jodhpur, claiming that the Congressman is heading the Bharat Jodo Yatra "wearing a foreign T-shirt."

When Prime Minister Narendra Modi was heading the "Make-in-India" effort, the BJP claimed that Rahul Gandhi, who has been addressing the problem of inflation during the "Bharat Jodo Yatra," was himself wearing a T-shirt worth Rs 41,257 and that too was from a foreign brand. Read more: BJP mocks Rahul Gandhi over ₹41,000 t-shirt; Congress, supporters hit back
Jairam Ramesh of Congress responded to the BJP's attack by saying, "I don't want to talk about T-shirts or underwear. If they (BJP) want to make a big deal out of containers, shoes, or T-shirts, it just goes to show that they are not afraid and can say whatever they want. 'Jhoot ki factory' is working overtime on social media.
Read more: Reintroduction of Cheetas will boost tourism in Chambal region: MP CM Shivraj Singh Chouhan