Special CP Advises Residents to Review Traffic Guidelines for G20 Summit as Another Rehearsal Takes Place
2 September, 2023 | Shubhi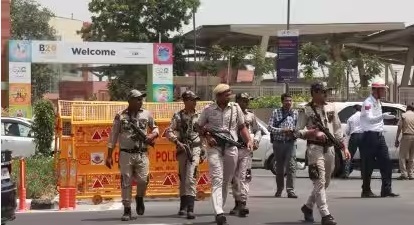 Delhi Traffic Police conduct dress rehearsal for G20 Summit on September 9-10
As part of the preparations for the upcoming G20 Summit in Delhi on September 9 and 10, the Delhi Traffic Police held a comprehensive dress rehearsal on Saturday. This summit will bring together leaders and representatives from 40 nations, including the 20 member states.
Officials reported that the carcade rehearsals took place in the Pragati Maidan area of the national capital, which will be the venue for this global event next month.
Special Commissioner Of Delhi Traffic Police, SS Yadav said, "We have shared the travel guidelines with all the media houses. Newspapers have also published our releases and necessary information is also being shared on our social media handles. The focus is to ensure that the impact on the movement of traffic is kept at a minimum."
The G20 Summit is scheduled to take place at the modern Bharat Mandapam Convention Centre located in Pragati Maidan.
"We will suspend the flow of traffic for some hours (during the summit) to enable some specific movements (of VVIP carcades). I would urge residents to check traffic guidelines on our official website before stepping out," Yadav added.
On August 23, Delhi traffic police authorities executed a full-dress rehearsal on selected routes. They conducted a mock drill exercise on major roads that link Pragati Maidan to various hotels in the national capital to assess the restrictions and diversion arrangements.
Delhi Police, which initiated preparations for the G20 Summit several months ago, has been providing training to personnel who will be deployed at various locations before and during the significant summit. These personnel are also receiving training to handle potential hazards, including the use of chemical and biological weapons, and have been instructed to enhance their soft skills.
The G20 Leaders' Summit is expected to be attended by many heads of state, including US President Joe Biden, Canadian Prime Minister Justin Trudeau, and French President Emmanuel Macron. The 18th summit in Delhi will mark the culmination of all the G20 processes and meetings that have occurred throughout the year involving ministers, senior officials, and civil society.
Also Read: Pakistan :Lawyers barred from meeting Imran Khan at Attock jail