Cyber Security Expert & Co-Founder of CIA Conference (CIACON): Vaibhav Jha, honored with Budding Researcher Award by IEEE in an International Conference at DUBAI
1 October, 2020 | newsx bureau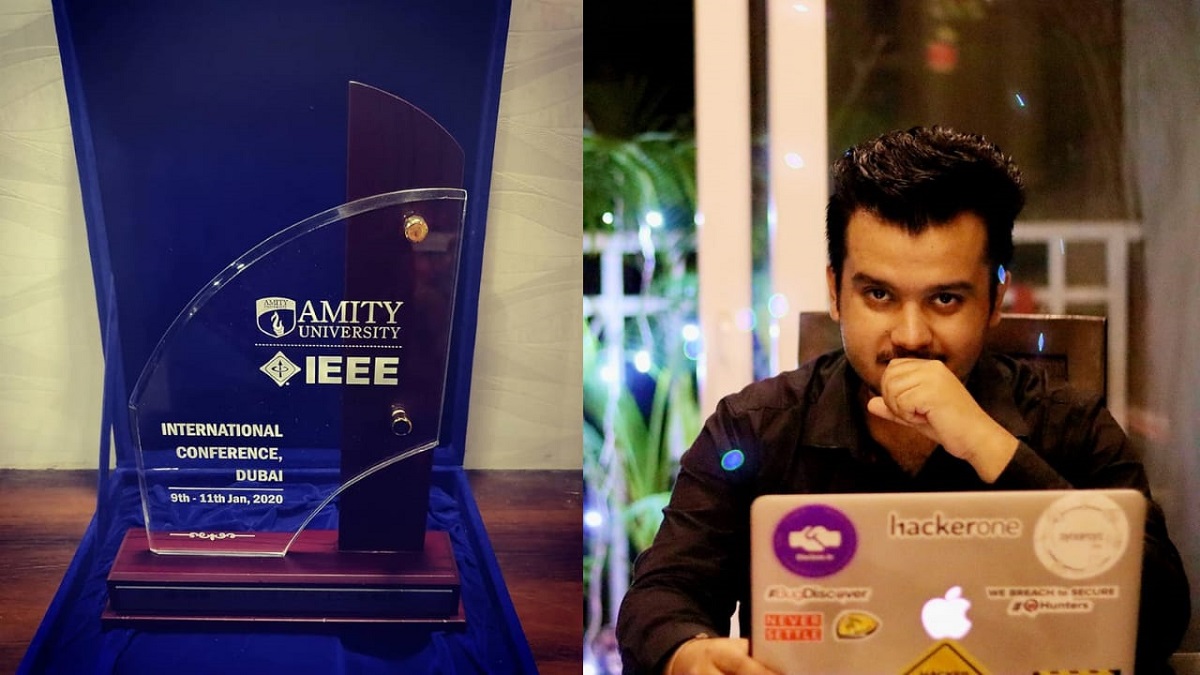 At the age when students struggle to get the placement, Vaibhav Jha a final year engineering student became the youngest Indian to train IAAS Officers & International Bureaucrats of more than 35 co...
Vaibhav Jha, a cyber security researcher & innovator is the Co-founder of CIA Conference, a unit of Intersquad Cyber Intellingence pvt ltd. CIA Conference (CIACON) is a Global Conference where international leaders, policymakers, industry experts, think tanks, cyber wizards etc gather to deliberate on issues and challenges for optimally using cyber space, Forensic, Cyber Crime, cyber Terrorism, Malware, web application, networking, IoT & IT related laws.
Vaibhav stepped into the entrepreneurial journey at the age of 18. He founded his venture in the year 2017 along with his classmates, when he was in second year of engineering. His startup started with managing & securing the IT infrastructure of companies.
As an Innovator
Vaibhav and his team has developed the most unique concept of CTF, In the second edition of CIA Conference, which was held in Dec, 2020. They came up with Asia's first Virtual CTF Platform build on Unity 3D. It was the first time any conference has organised such CTF, which enables the CTF teams to play the game in real time and solve the integrated challenges.
As a Security Researcher
Vaibhav has a couple of research papers published, his major areas of interest are wireless security, Automation Security & Critical Security Infrastructures. He worked as an intern in the Ministry of Electronics & IT (STPI), also he got the opportunity to work as an intern in Gurugram Police & Noida Police. After completing his internship he helped many law enforcement agencies in solving the critical cyber crimes. Vaibhav was among the highest recommendation lists of IEEE & thus after seeing his achievements and contribution in cyberspace, Vaibhav has been awarded the Budding researcher award by IEEE in an international conference at Dubai.
As a Public Speaker
With the rapid pace of digitization, Cybersecurity has become the need of the hour. We are achieving a bright digital future that requires knowing and managing the adverse effects of digitalization too. Be it Artificial Intelligence, Cloud, Crypto, Machine learning, or any other technology, security is required in each and every axis of these technologies.
Therefore Vaibhav decided to give free training to students in his college, his major aim was to fill the gap between corporate cyber security and the fancy world of Hacking. Students started connecting with him & gradually till date he has been connected with more than 20000 students all across the globe, he has delivered lectures on the major subdomains of cyber security in Delhi Technological University, Lovely Professional University, Jaypee Institute of Information & Technology, Galgotias, Amity and many others.
In the year 2019, Vaibhav received the invitation from Comptroller Auditor General of India (icisa) for training International Bureaucrats from 35 countries, which includes Cops, Investigation Officers & Admins of various government agencies on safeguarding Critical Security Infrastructure. After receiving the wonderful feedback, within the span of just 5 days he received another invitation from the Government to train IAAS Officers on the same topic & thus he became the youngest Indian to train IAAS Officers.
People like Vaibhav are the true source of motivation for many youngsters.