Australian Space Agency says debris found on Beach is from India's PSLV Rocket; in touch with ISRO
31 July, 2023 | Anupam Shrivastava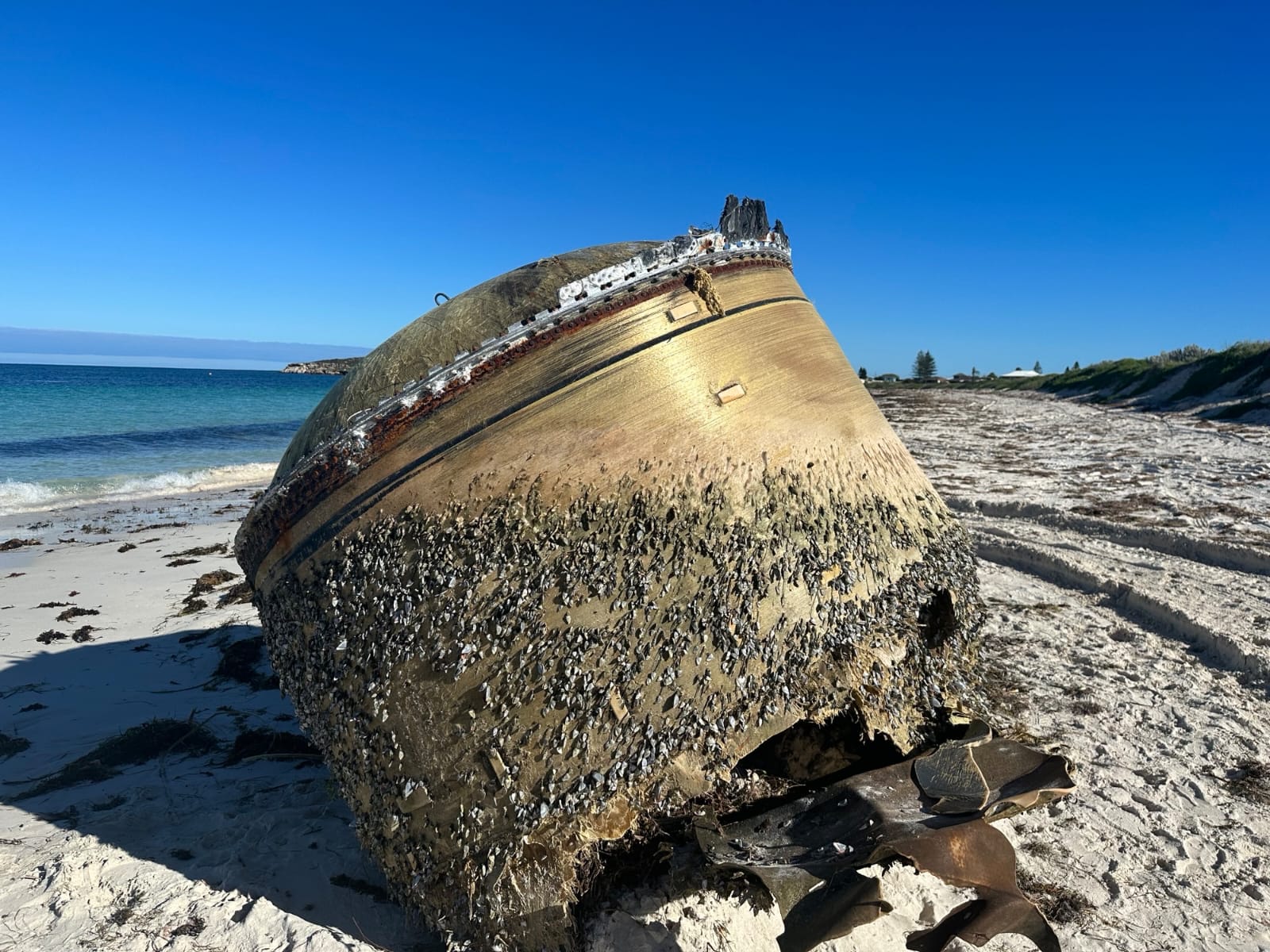 Australian Space Agency has said that it is collaborating with ISRO for further confirmation and determining next steps, including assessing obligations under the UN space treaties
The Australian Space Agency made an announcement on Monday, confirming that the object that washed ashore on a beach near Jurien Bay in Western Australia is most likely debris from the third stage of India's Polar Satellite Launch Vehicle (PSLV). The space agency is currently in communication with the Indian Space Research Organisation (ISRO) regarding the proper disposal of the object.
A photograph shared by the Australian Space Agency shows a large, bronze-coloured metal cylinder lying on the beach, with parts of the object covered in barnacles. According to Garth Griffiths, a local resident who reported the discovery to ABC News, the object measures approximately 10 feet in length and 8 feet in width. Griffiths described it as a semi-cylindrical structure made of lightweight carbon fibre material with a resin-like texture. The PSLV is a medium-lift launch vehicle operated by ISRO.
Previously, speculations were made that the debris might be related to Chandrayaan-3, which was launched on 14th July. However, these claims were later dismissed due to the presence of barnacles on the object, indicating that it had been adrift for weeks or even months.
As of now, the debris remains in storage while the Australian Space Agency collaborates with ISRO for further confirmation and to determine the next steps, including assessing obligations under the United Nations space treaties.
The Australian Space Agency urges the community to report any other suspected debris findings to local authorities and notify the agency for proper assessment.
Safeguarding the long-term sustainability of outer space activities, including debris mitigation, remains a key commitment for the Australian Space Agency. They continue to emphasize this issue on the international stage.
Earlier in July, the Australian Space agency had already indicated that the object found on the beach could be from a foreign space launch vehicle and had been in communication with global counterparts for additional information. After conducting further analysis, they have now identified the object as most likely a solid rocket motor casing.
Also Read: FBI and CDC Raid Secret Chinese Covid Biolab in California