Delhi CM visits flood relief camp, assesses condition at Mori Gate area
16 July, 2023 | Priya Rani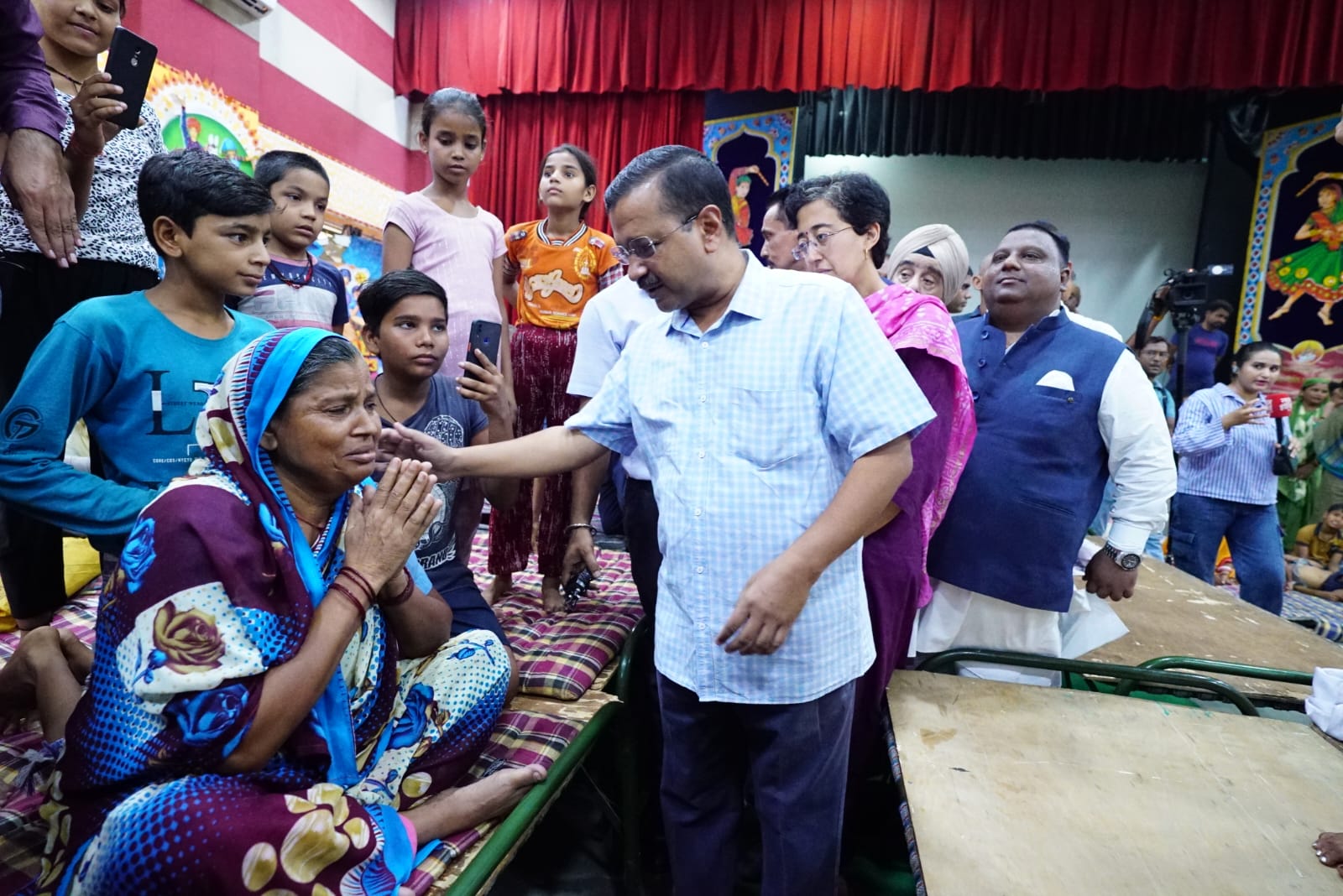 Delhi CM Kejriwal & PWD Minister Atishi visit flood-hit areas and take stock of situation in Mori Gate area
Chief Minister Arvind Kejriwal visited a flood relief camp located in Sarvodaya Bal Vidyalaya at Mori Gate in north Delhi on Sunday. Accompanied by Delhi Public Works Department (PWD) Minister Atishi, Kejriwal observed the conditions at the camp where residents from the flooded Yamuna Bazar area sought refuge.
Kejriwal addressed the press after his visit, acknowledging the impact of the rising water level in the Yamuna River. Numerous low-lying areas have experienced waterlogging over the past few days, prompting the relocation of affected residents to relief camps across the capital.
"Six districts in the city have been affected and the Delhi government has set up relief camps at several places in these six districts. Relief camps were set up in nearby schools and Dharamshalas and facilities for drinking water and toilets were ensured. This is one such relief camp, we have residents from the Yamuna Bazar area here", CM Kejriwal told reporters after visiting the camp.
In a related development, Delhi Lieutenant Governor Vinai Kumar Saxena inspected flood-affected areas in Raj Ghat today. Earlier in the day, Delhi Minister Saurabh Bharadwaj also visited a relief camp near Mayur Vihar. Yesterday, PWD Minister Atishi directed the chief secretary to ensure the provision of all necessary amenities to the individuals taking shelter in relief camps.
The flooding occurred as the Yamuna River surpassed the danger mark, resulting in water overflowing into several parts of the national capital. Locals residing along the riverbanks were evacuated and moved to relief camps. However, there have been complaints of insufficient facilities at the camps, including a shortage of water, inadequate toilets, lack of electricity, and substandard food quality.
The Central Water Commission shared data on their portal indicating that the water level of the Yamuna River had dropped to 205.88 meters at noon on Sunday.
Officials expect the water level to fall below the danger mark within the next few hours. On July 10, at 5 pm, the Yamuna River in Delhi crossed the danger mark of 205.33 meters. In response, the National Disaster Response Force (NDRF) teams conducted rescue operations in low-lying areas near Pragati Maidan late on Saturday night, as the river continued to overflow.
Heavy rainfall and the release of water from the Hathni Kund barrage in Haryana led to waterlogging and flooding in various parts of Delhi. However, according to data released by the Central Water Commission, the water level of the Yamuna River is gradually receding. As of 10 am today, it was recorded at 205.95 meters.