Delhi: Shri Shri Rukmini Dwarkadhish: A Centre for Permanent Happiness by ISKCON Dwarka
19 July, 2023 | Srishti Ruchandani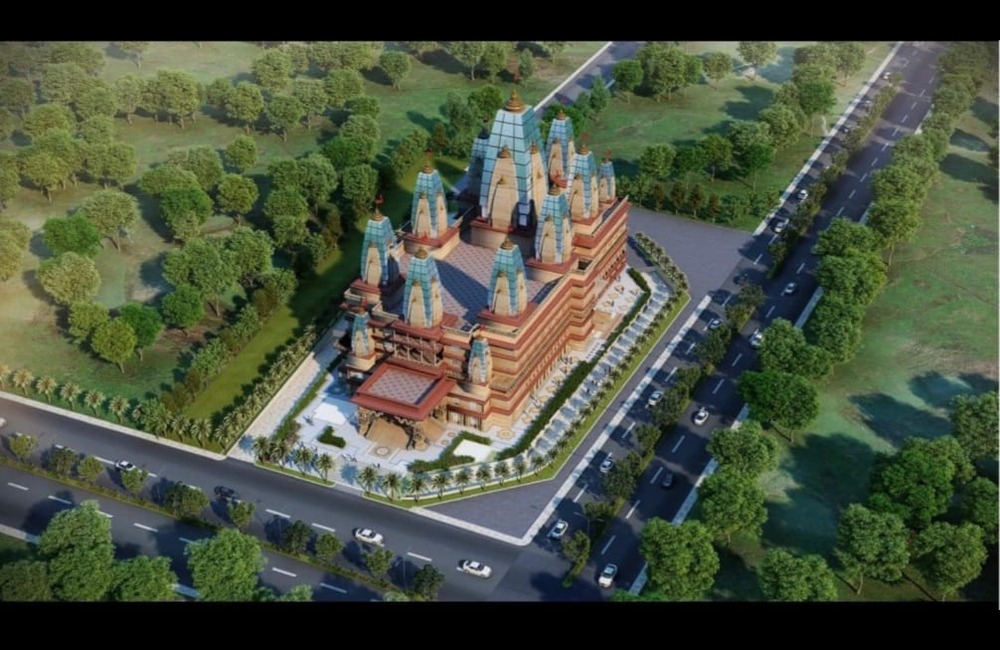 ISKCON Dwarka, Delhi is all set to unveil the Shri Shri Rukmini Dwarkadhish—a sanctuary poised to ignite an eternal flame of joy within society.
Mark your calendars. Come May, 2024, ISKCON Dwarka, Delhi is all set to unveil the Shri Shri Rukmini Dwarkadhish—a sanctuary poised to ignite an eternal flame of joy within society. Nestled amidst two lush acres, this visionary centre promises a plethora of amenities and transformative initiatives, meticulously crafted to propel the community towards unprecedented growth and holistic well-being.
Over the years, ISKCON Dwarka has been actively engaged in numerous initiatives, including the distribution of nutritious meals to those in need. During the challenging times of the COVID-19 pandemic, the organization distributed over 5 lakh packed meals daily, benefiting migrants, laborers, refugees, and individuals in isolation, such as the elderly and pregnant women. This humanitarian effort received immense appreciation from prominent figures, including the Prime Minister, Delhi Chief Minister, and leaders from the business community. To date, ISKCON Dwarka has distributed over 5 crore meals and continues to provide 25,000 meals daily. In response to the healthcare needs during the peak of the pandemic, ISKCON Dwarka established a free 200-bed hospital, treating more than 1800 patients with no casualties. The organization's commitment to holistic well-being extends beyond physical health to emotional and psychological support. Through counseling services, ISKCON Dwarka has provided guidance and assistance to over 25,000 individuals. The new centre will include dedicated counseling areas equipped with residential
facilities, offering support for various life issues, including anxiety, depression, couple problems, and suicidal tendencies. Thousands of individuals are expected to benefit from these counseling services, improving their quality of life.
The upcoming "Centre for Permanent Happiness – ISKCON Dwarka" will house a modern kitchen capable of providing meals to 1 lakh people daily within the premises. This facility ensures that no one within a 10-mile radius of the centre goes hungry, embodying the organization's commitment to serving the community.
Education plays a vital role in ISKCON Dwarka's initiatives, with a focus on value-based education for the youth. Thousands of individuals have received this education, equipping them with the tools to stay away from societal challenges such as drug abuse, alcoholism, and smoking. The new centre will feature multiple classrooms, large halls, and residential rooms, providing a conducive environment for individuals to stay away from negative influences and focus on personal and spiritual growth. Special value-based education classrooms will also be available for children, instilling values from an early age and nurturing them into responsible and compassionate individuals.
A highlight of the new centre is the meditation hall, designed to accommodate over 10,000 people. This serene space will host activities such as singing, dancing, and meditation, allowing individuals to find inner peace and connect with their spiritual selves. Additionally, an auditorium is being constructed for live plays, dramas, and educational shows that promote the right kind of values and provide guidance on important issues. Seminars and workshops will be arranged under the value-based education program, addressing challenges such as drug abuse and fostering personal growth.
To support the temple's development and leave a lasting legacy, individuals have the opportunity to become a Sudama Sevak by sponsoring a tile and having their names engraved on the temple wall. This act not only contributes to the temple's mission but also serves as a testament to the sponsor's devotion, generosity, and commitment. By sponsoring a tile, individuals become a part of the temple's ongoing service and inspire others to contribute as well. One can visit Iskcon Dwarka's website or Instagram profile to donate.
The establishment of Shri Shri Rukmini Dwarkadhish marks a significant milestone in ISKCON Dwarka's journey of providing comprehensive spiritual and holistic services. The centre's various facilities and programs aim to bring everlasting happiness to individuals, fostering personal growth, community well-being, and spiritual enlightenment.