Donald Trump Released on Bond 20 Minutes After Arrest In Georgia Election Subversion Case
26 August, 2023 | Anupam Shrivastava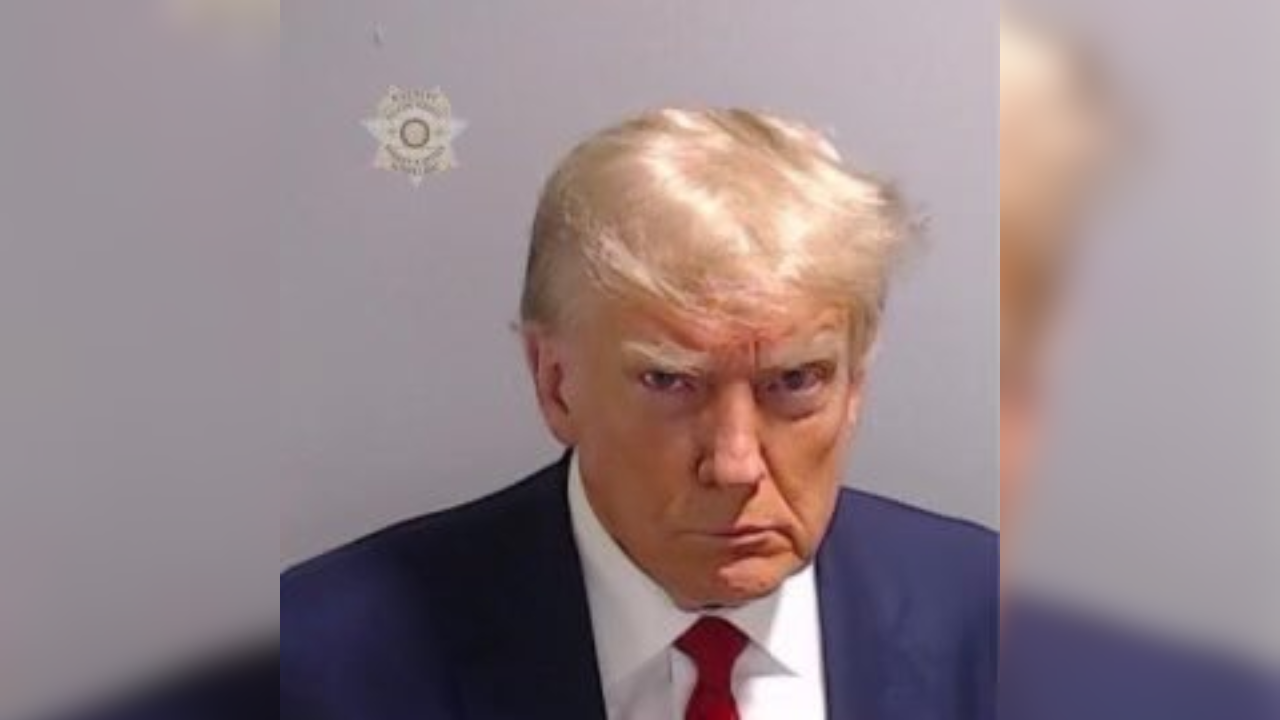 Donald Trump's release was made possible after he agreed to a $200,000 bond and other stipulated release conditions.
Former US President Donald Trump has been granted release on bond following the completion of the booking procedure at the Fulton County jail in Atlanta, as per CNN's report on jail records. These records indicate that the former President was arrested and processed at the Fulton County jail on Thursday night, local US time. This arrest is connected to the Georgia election subversion case. Trump's time in jail lasted approximately 20 minutes.
The Fulton County Sheriff's Office issued a mug shot of Donald Trump, coinciding with Jail records indicating his detainment and assignment of inmate No. P01135809. According to Jail records, the preceding US President was apprehended and formally processed at Fulton County jail on the evening of Thursday, as per local time in the US.
Upon being arrested and subsequently released, Donald Trump addressed reporters, asserting, "I did nothing wrong," as reported by CNN. He characterized the criminal case against him as "a miscarriage of justice" and emphasized his right to challenge elections that he perceives as fraudulent, stating, "We have every single right to challenge an election that we think is dishonest."
Trump's release was made possible after he agreed to a $200,000 bond and other stipulated release conditions. These conditions, which prohibit the use of social media to intimidate co-defendants or witnesses, were negotiated earlier by his legal team. Donald Trump's payment of the bond involved contributing 10 percent towards it, and he collaborated with a local bonding company named Foster Bail Bonds LLC, according to sources cited by CNN.
Notably, this incident marks the first instance where Trump has been required to pay cash bail. In Georgia, the probability of his release without cash bail was low, given his pre-existing three felony indictments. Trump had already surrendered himself at the Fulton County jail earlier on the same day, being booked on numerous charges tied to his efforts to overturn Georgia's 2020 election outcomes.
Outside the jail, protestors voiced their grievances against District Attorney Fani Willis, who had charged Trump and 18 others in relation to the election subversion case. These protestors chanted slogans like "Lock Fani up!" in support of the former President. Trump had arrived at Atlanta's Hartsfield-Jackson International Airport before surrendering at the jail. Law enforcement enhanced security measures outside the Fulton County jail in anticipation of his arrival, involving more than ten agencies from the Metro Atlanta area. The presence of canine units and drones was observed to ensure safety.
Fulton County District Attorney Fani Willis granted Donald Trump and his 18 co-defendants a voluntary surrender deadline of Friday noon, following their indictment last week. The Fulton County jail's conditions have gained notoriety due to concerns over poor standards. The Justice Department initiated an investigation last month in response to reports of an individual found deceased at the facility under unsanitary conditions. Another inmate, held on shoplifting charges, also passed away at the jail on Thursday.
The state judge overseeing the case approved bond agreements for two defendants. John Eastman, who was involved in devising a strategy to present fraudulent pro-Trump elector slates, agreed to a $100,000 bond. Scott Hall, charged in connection with an elections office breach, consented to a $10,000 bond, according to court filings.
District Attorney Willis charged all 19 co-defendants through a 41-count indictment focusing on racketeering charges. This indictment constitutes the fourth set of criminal charges faced by Donald Trump.
Also Read: PM Modi Met Women Scientists Of Chandrayaan-3 At Bengaluru, Told "Sky is not the limit"
Catch all the Latest Business News, Breaking News Events, and Latest News Updates on NewsX