Delhi Police Conducts 3-Month Helicopter Slithering Training for G20 Preparation
1 September, 2023 | Shubhi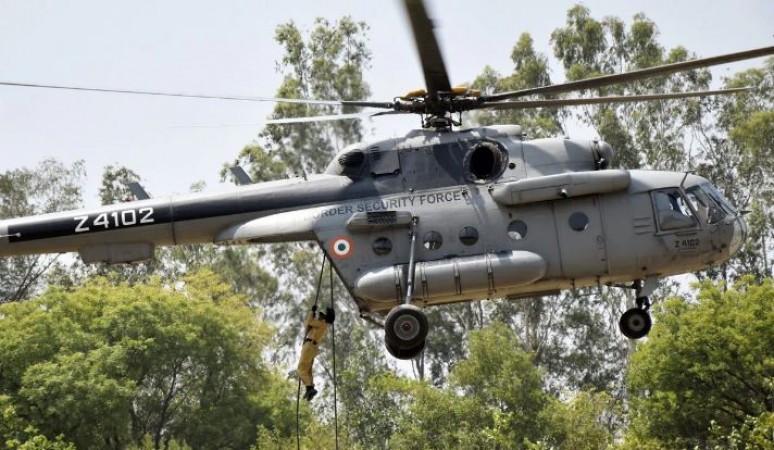 New Delhi is gearing up to host the upcoming G20 Summit, scheduled for September 9 and 10
New Delhi is gearing up to host the upcoming G20 Summit, scheduled for September 9 and 10. As part of their preparations, trainee commandos from the Delhi Police conducted a helicopter slithering exercise on Friday.
This exercise was carried out by the second group of trainee commandos in the capital city, in anticipation of the G-20 Summit. Back on May 31, the first batch of commandos underwent training using an M-17 helicopter at the Delhi Police Academy in Jharoda Kalan.
In Jharoda Kalan Academy training, the Delhi Police Commandos from the second batch were trained using a BSF helicopter MI17. This batch of commandos included 181 individuals in total: 178 men, consisting of 16 sub-inspectors and 162 constables, along with 3 women sub-inspectors.
While speaking to ANI, Special CP-Training Sunil Kumar Gautam said, "This is a three-month training specially carried out in purview of the G20 Summit. In the final stage of the exercise they (commandoes) practice to descend from a helicopter using a rope (slithering). The exercise boosts their confidence to tackle every situation and carry out safety operations."
Additionally, Suman Nalwa, the PRO of Delhi Police, provided insights into the security measures put in place for this significant event while speaking to ANI on Thursday.
"Delhi Police is prepared to stop not just any terrorist threat but also any likely protests. 'Vikrant', our logistics van carrying all equipment to deal with any law and order situation, will be deployed. We have equipped PCR vans and logistic vans with chain cutters to deal with protestors. We are fully prepared."
"All the security situations are very tight, and we are going to conduct this global event very successfully," she further said.
The G20 Summit is set to take place in India's capital for two days, from September 9 to 10, at the advanced Bharat Mandapam Convention Centre in Pragati Maidan. India took on the G20 Presidency on December 1st the previous year.
This year marks the 18th G20 event and India's inaugural presidency. The theme for this year's G20 is "Vasundhaiva Kutumbakam," signifying "One Earth, One Family, One Family." The G20 includes 19 countries: Argentina, Australia, Brazil, Canada, China, France, Germany, India, Indonesia, Italy, Japan, South Korea, Mexico, Russia, Saudi Arabia, South Africa, Turkey, the United States, the United Kingdom, and the European Union are all included.
Also Read: Amit Shah Commences 'Amrit Kalash Yatra' Today in New Delhi
Catch all the Latest Business News, Breaking News Events, and Latest News Updates on NewsX