Emili Martinez inaugurates Mohun Bagan's Pele-Maradona-Sobers gate in Kolkata
5 July, 2023 | Nikita Ojha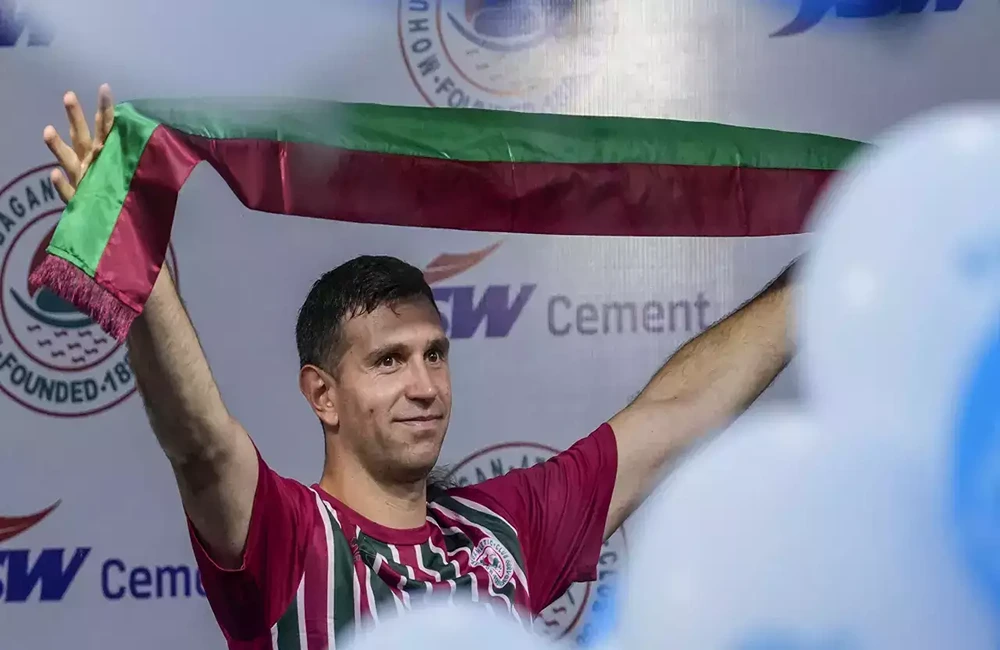 Renowned footballer Emili Martinez inaugurated the Mohun Bagan's Pele Maradona-Sobers gate in Kolkata.
Emili Martinez, renowned and one of the most celebrated footballers in the world inaugurated the Mohun Bagan's Pele Maradona-Sobers gate in Kolkata on 4th July 2023. He received a warm welcome from his fans and supporters on the field. The Maradona gate is an entrance to the Mohan Bagan stadium. This gate is named after Brazil's football legends Pele, Maradona, and Garfield Sober. In the past, Maradona Diego had shown 11 minutes of magic in this Mohun Bagan field. It is a fitting tribute to the most iconic players in the history of football.
Mohun Bagan Club was founded in 1889 and is one of the oldest sports clubs in Asia. Its football club Mohun Bagan Super Giant plays in Indian Super League, the top-tier professional football league in India. The club also has a cricket division and its team competes in various age-group tournaments organised by the Cricket Association of Bengal.
Martinez was a key member of the Lionel Messi-led Argentina that lifted the World Cup in 2022 in Doha. He saved two penalty shots against the Netherlands which was a great finish to the quarterfinals before replicating the same results in the finals against France. His incredible performance in the World Cup led him to win the Golden Glove Award in 2022.
He said in a report that coming to India was his dream and now that he is finally here, he is feeling great and excited. He added that he is happy to be in India. He also spoke about his love for Mohun Bagan and his admiration for Pele, Maradona, and Garfield. The event concluded with a match between Mohun Bagan and a local team.