Everything you need to know about Gujarat's Greenfield Airport
27 July, 2023 | Don Tomslee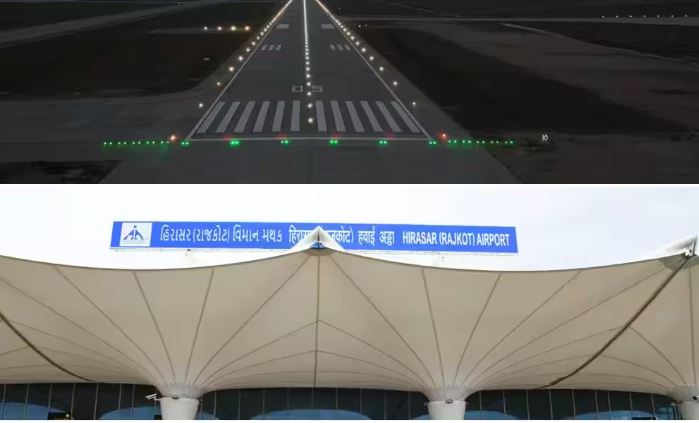 Greenfield Airport is intended to serve as a transportation hub for residents of the state who are travelling overseas.
During his two-day visit to Rajasthan and Gujarat from July 27–28, Prime Minister Narendra Modi will dedicate the Hirasar Greenfield International Airport, Gujarat's first Greenfield Airport, to the country on Thursday.
PM Modi will dedicate a number of significant projects, including packages 8 and 9 of the Saurashtra Narmada Avtaran Irrigation (SAUNI) Yojana, totaling over 860 crore together with the airport.
According to a news release from the prime minister's office (PMO), the new airport, which covers an area of 2,500 acres, is intended to serve as a transportation hub for residents of the state who are travelling overseas.
Key characteristics about Greenfield Airport of Gujarat:-
The following are some of the key characteristics of the Rajkot International Airport:
1. The Hirasar Greenfield Airport, which is about 30 kilometres from Rajkot and covers 2500 acres, cost $1,405 crore to create.
The airport has a well-designed runway that is 3040 metres (3.04 km) long and 45 metres broad, with room for 14 planes at once.
The terminal building complies with GRIHA -4 regulations (Green Rating for Integrated Habitat Assessment), and the New Terminal Building (NITB) is outfitted with a number of environmentally friendly features, including a double-insulated roofing system, skylights, LED lighting, low heat gain glazing, and others.
The airport, which places a strong emphasis on sustainability, is also outfitted with a solar power system, a green belt, and a rainwater collecting system, in addition to other necessary amenities including one parallel half-taxiway, a quick exit taxi track, an interim terminal building, and cargo and MRO/hangars.
According to the press announcement, Rajkot's cultural energy served as inspiration for the airport terminal's design, which will showcase the art forms through its dynamic outside façade and exquisite interiors, ranging from Lippan art to Dandiya dance.
Its advantageous position along the Rajkot-Ahmedabad highway seeks to simplify logistics for a range of local companies.
The airport will serve as the pinnacle of the regional architectural history and will showcase the Kathiawar region's artistic and dancing traditions.
The Hirasar Greenfield Airport will benefit Gujarat's trade, tourism, education, and industrial sectors as well as Rajkot's local car industry.
The Memorandum of Understanding (MoU) between the AAI and the Civil Aviation Department of the Government of Gujarat led to the building of the new greenfield airport.
Because Chotila in Gujarat is so near to Rajkot and is accessible by car, PM Modi laid the cornerstone for the airport there in October 2017.