FIFA World Cup winner Emiliano Martinez lands in Kolkata
3 July, 2023 | Srishti Ruchandani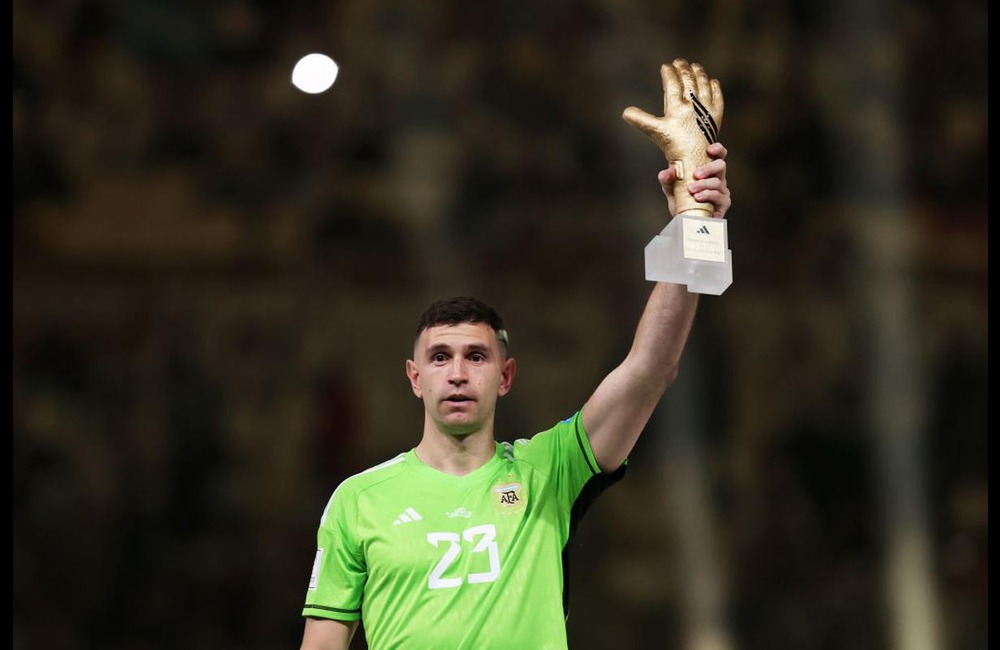 Argentina national football team's goalkeeper Emiliano Martinez arrives at Netaji Subhas Chandra Bose International Airport, in Kolkata.
Emiliano Martinez, the Argentina Football Team goalkeeper, arrived at the Netaji Subhash Chandra Bose International Airport in Kolkata as part of the player's South-Asia tour on Monday. There was palpable enthusiasm at the airport with fans cheering for the footballer who was one of the heroes of Argentina's World Cup victory in Qatar last December.
He will be in the city from July 3 to July 6 for a number of events, including meet-and-greets, a discussion with schoolchildren at Santosh Mitra Square, and the opening of gates at the Mohun Bagan Club with the names Pele, Diego Maradona, and Garfield Sobers.
On July 4, Martinez will be honoured and recognised for his accomplishments, according to Mohun Bagan. During his visit, he will also get the chance to go around the club's facilities and speak with certain club members. This was announced in a statement issued after the executive committee of Mohun Bagan met.
"I am really excited, feeling great. It was a dream (coming to India). I had promised to come to India, I am happy to be here. India is a beautiful country," Martinez told reporters at the airport.
Martinez will inaugurate Mohun Bagan's Pele-Maradona-Sobers gate on Tuesday. In the past, Diego Maradona showed 11 minutes of magic in this Mohun Bagan field. This time, another Argentine will come to Mohan Bagan.
The Argentina football team has a sizable and devoted following in Kolkata, and those supporters, who have witnessed the likes of Maradona and Messi previously, will now be rooting for Martinez, whose anticipation and swiftness helped Argentina win their third FIFA World Cup trophy after a long 36-year drought.
Martinez played a big role in Argentina's 2022 World Cup triumph in Qatar under Lionel Messi's captaincy. He saved two penalty shots against the Netherlands in the quarterfinal match and did the same against France in the summit clash.
Martinez, who plays for Premier League club Aston Villa, will meet West Bengal Chief Minister Mamata Banerjee and former India captain Sourav Ganguly.
Martinez will be the chief guest at a charity match. He will participate in a Maradona memorial event and spend time with underprivileged children. The Argentine footballer will also attend a few sponsor events during his two-day visit to the city.