FIR Filed Against Udhayanidhi Stalin and Priyank Kharge in Rampur, UP, Over Sanatana Dharma Dispute
6 September, 2023 | Akshara Tyagi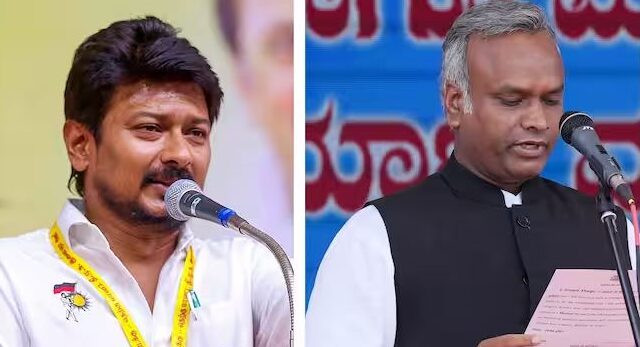 Minister Udhayanidhi Stalin's comments on 'Sanatana Dharma' triggered a nationwide dispute, an FIR was filed against him and Karnataka Minister Priyank Kharge in Uttar Pradesh's Rampur
Several days after Tamil Nadu Minister Udhayanidhi Stalin's comments on 'Sanatana Dharma' triggered a nationwide dispute, an FIR was filed against him and Karnataka Minister Priyank Kharge in Uttar Pradesh's Rampur. The FIR, based on a complaint from Advocates, has been registered under Section 153A and 295A of the Indian Penal Code (IPC) regarding their remarks concerning 'Sanatan Dharma.'
Udhayanidhi Stalin's comments about Sanatana Dharma generated significant controversy nationwide, drawing strong criticism from several BJP leaders and Hindu priests. In an interview with the media, the DMK leader clarified that he wasn't against the Hindu religion but rather opposed certain Sanatan practices, particularly caste discrimination.
When asked for an example of such a practice, Udhayanidhi Stalin cited the incident where President Draupadi Murmu was not invited to the opening of Parliament.
"Honourable President, Draupadi Murmu was not invited for the opening of the Parliament, that is the best current example," said Udhayanidhi Stalin.
When questioned about the call for an apology, Udhayanidhi declined to respond. DMK leader Stalin has faced harsh backlash since he suggested on Saturday that Sanatan Dharma should not just be opposed but "eliminated."
Additionally, Karnataka Cabinet Minister Priyank Kharge commented on Udhayanidhi Stalin's statement about "eradicating Sanatana Dharma" on Monday, stating that any religion that doesn't advocate equality or treat individuals as human beings is equivalent to a malady
"Any religion that does not promote equality or does not ensure you have the dignity of being human is not religion, according to me… Any religion that does not give equal rights or does not treat you like humans is as good as disease…" said Priyank Kharge.
Later, reacting to this, BJP National Secretary B. L. Santhosh said in a post on 'X', "So if there is an infection in somebody's stomach, you chop off the head…?"
Significantly, the BJP has requested an apology from MK Stalin's son. BJP leaders have additionally accused the INDIA alliance of being responsible for Udhayanidhi's statement, asserting that this agenda was deliberated upon during the recent gathering in Mumbai.
Also Read: World's largest Nataraja statue installed in front of Bharat Mandapam for G20 summit
Catch all the Latest Business News, Breaking News Events, and Latest News Updates on NewsX