French President Macron Presents Historical, Cultural Gifts to PM Modi
14 July, 2023 | Anamika Singh Parihar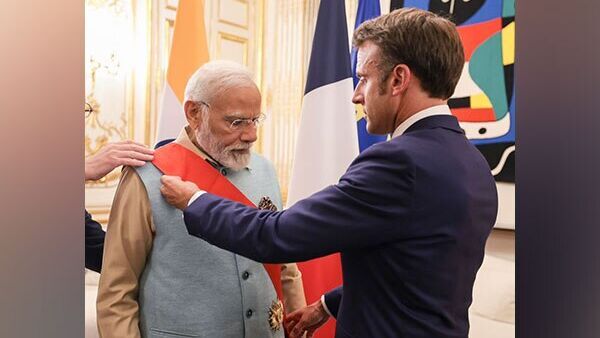 PM Modi received three gifts of historical and cultural significance from French President Emmanuel Macron during his France visit. Know what are they.
Prime Minister Modi who is on a two-day official visit to France, was bestowed with several gifts of historical and cultural linkages by French President Emmanuel Macron during a private dinner at his official residence, Elysee Palace on Thursday 14 July.
There are the following gifts PM Modi has received from the French President
1) A framed facsimile of the photograph " a Parisian presenting flowers to Sikh", July 14, 1916
PM Modi was bestowed with a photo that pays tribute to Indian soldiers who fought in Europe alongside France during the period of World war-1 (1914-1918). It also reflects the long-standing shared battle between India and France to protect Universal values.
In World war-1 nearly 1.3 million Indians participated to fight on behalf of Britain. Among them, many lost their lives in France and Belgium.
2) Reproduction of the Charlemagne chessmen (11th century)
He was also bestowed with the reproduced version of 'Charlemagne Chessmen, which depicts the Indian origin of the chess and long history of trade and commerce between India and Europe. The "Charlemagne" chessmen are stored at the Cabinet des Medailles at the National Library of France.
3) Marcel Proust, Le temps retrouve (Time Regained), Pleiade and English edition of A la recherche du temps perdu (In Search of Lost Time)
PM Modi has also received some popular and historic works of French literature.
A la recherche du temps perdu (In Search of Lost of Time) is a series of novels written by Marcel Proust and published during the timeline of 1913-1927. It is also considered one of the most significant works of French literature of the early 20th century.
PM Modi was bestowed with France's highest award "Grand Cross of the Legion of Honour". He becomes the first Indian Prime Minister to get this award. Only a few foreign leaders except PM Modi have received this honor which is considered as highest in Military and Civilian terms.