Fresh posters targeting PM Modi crop up in Delhi
30 March, 2023 | Amish Mahajan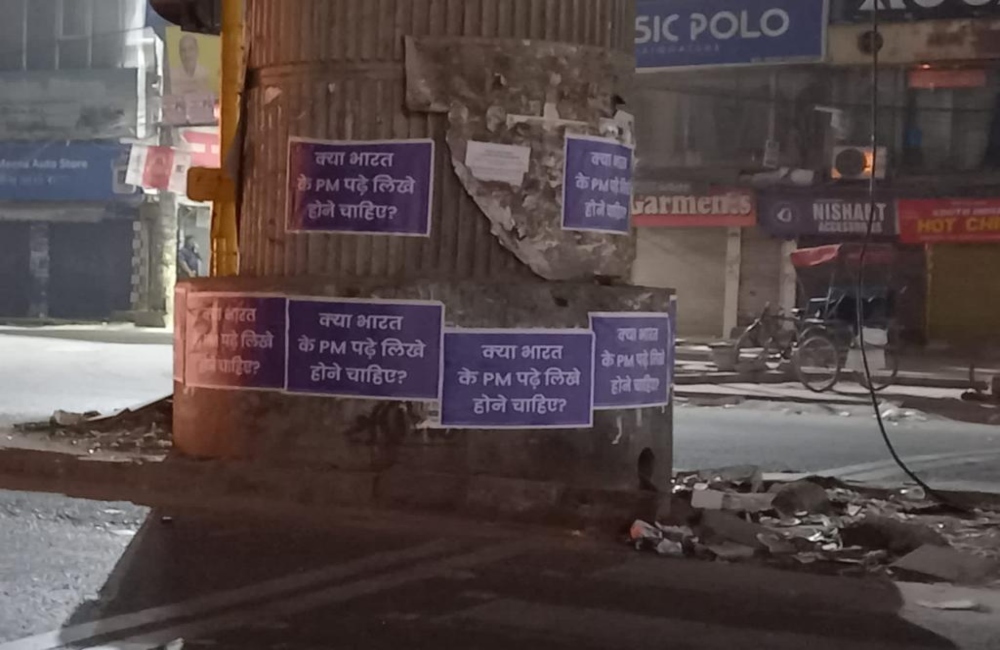 Fresh posters questioning the educational qualification of Prime Minister Narendra Modi surfaced in the national capital on Thursday
Fresh posters questioning the educational qualification of Prime Minister Narendra Modi surfaced in the national capital on Thursday.
As per the allegations, some parts of Delhi had blue posters on the walls and pillars on the roadsides with the caption "Kya Bharat ke pradhan mantri padhe-likhe hone chahiye (Should the PM of India be educated)?"
It comes a day after the Aam Aadmi Party released 'Modi Hatao Desh Bachao' posters in 11 languages in the national capital.
Apart from Hindi, Urdu, English and Punjabi, the posters were also released in Gujarati, Telugu, Bengali, Oriya, Kannada, Malayalam and Marathi.
From today, the party will put up posters with the caption 'Modi Hatao Desh Bachao' across the country, AAP state convenor Gopal Rai had earlier announced at a party meeting.
AAP, on March 23, held a big public meeting at Jantar Mantar under the slogan 'Modi Hatao Desh Bachao', which was addressed by AAP leaders Arvind Kejriwal and Bhagwant Mann.
Earlier on March 22, Special CP Deependra Pathak told ANI that the Delhi Police has registered over 100 FIRs while six people have been arrested for objectionable posters, including those against PM Narendra Modi, across the city.
The FIR has been registered in different districts across the city under sections of the Printing Press Act and Defacement of Property Act, the police said earlier in the month.
The Special CP had also said that a van was intercepted as soon as it left the Aam Aadmi Party (AAP) office. Few posters were seized, and arrests were made.
Later, Chief Minister Kejriwal hit out at the Centre over the action by the Delhi Police against persons who allegedly put up objectionable posters on Prime Minister Modi across the city.
Weighing on the poster row, the Delhi CM, in a press briefing, said, "Why is PM Modi so scared? Why is he so insecure? This is a normal poster anyone can put up such posters in a democracy."