Tami Nadu: Gas Cylinder Sparks Fatal Fire On Train At Madurai Railway Station, Claims 9 Lives
26 August, 2023 | Vishakha Ahuja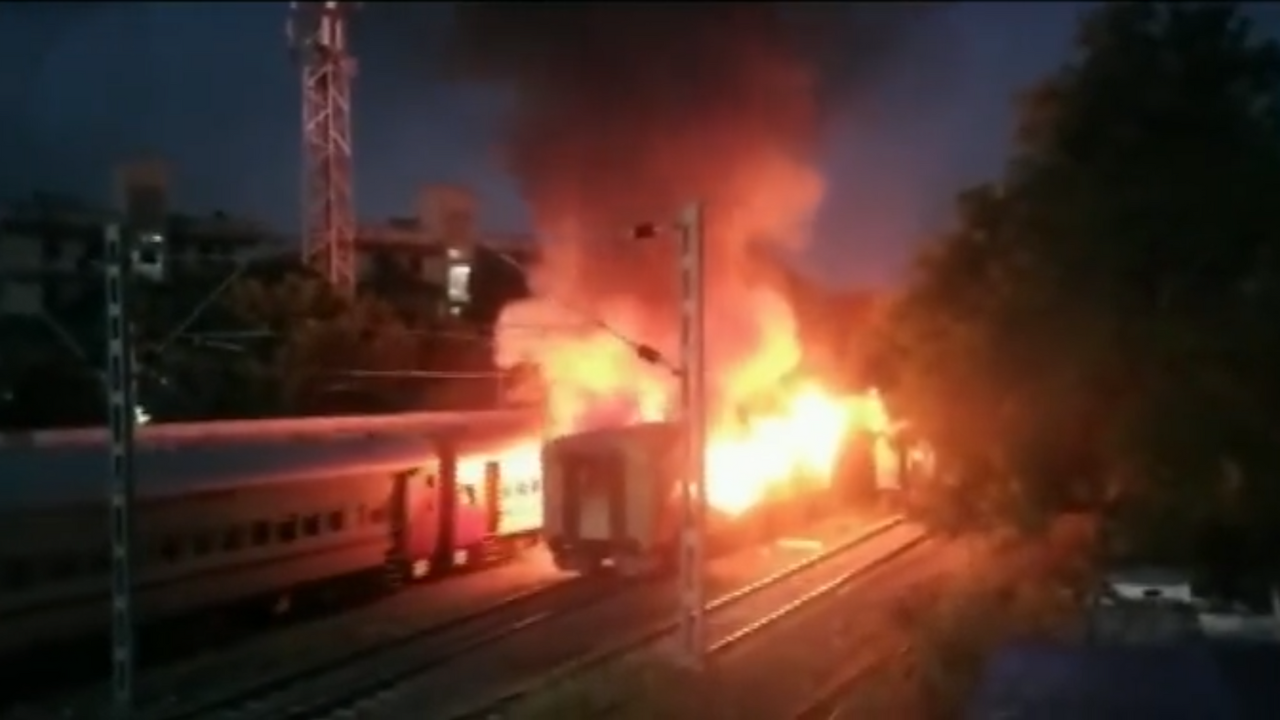 According to the Southern Railway, the fire was triggered by an "illegally smuggled gas cylinder."
A tragic incident occurred near Madurai Railway Station in the early hours of Saturday, where a fire erupted inside a stationary train compartment, resulting in the loss of nine lives and injuries to more than 50 individuals. The victims were passengers hailing from Uttar Pradesh. The Southern Railway has declared a compensation of Rs 10 lakh for the families of the deceased.
A "private party coach" On August 25, a train compartment that had been coupled at Nagercoil Junction was involved in the incident. The specific train in question is the Punalur-Madurai Express, identified by its number 16730. This train, originating from Lucknow on August 17, reached Madurai at 3:47 a.m. on the current day. The compartment, often referred to as the "party coach," was disconnected from the train and positioned at the Madurai Stabling line. It was at this location that the fire erupted at 5:15 a.m., as indicated by a statement from the Southern Railway.
According to the Southern Railway, the fire was triggered by an "illegally smuggled gas cylinder." "Today early morning at 5:30 am there was a fire accident in a coach which was halted at the Madurai railway station…They were pilgrims and were traveling from Uttar Pradesh," MS Sangeetha, Madurai District Collector said. "This morning when they tried to make coffee and tried to light the gas stove, there was a cylinder blast.
A total of 55 people have been rescued and as of now, we have retrieved nine bodies…Rescue operation is underway…," Madurai District Collector said. According to an official statement by B Guganesan, the Chief Public Relations Officer of Southern Railway, a fire ignited at 5:15 a.m. within a privately owned party coach situated at the Madurai yard. Upon receiving notification, the fire service arrived by 5:45 a.m. and successfully extinguished the flames by 7:15 a.m.
Fortunately, no harm was inflicted upon any other coaches in the vicinity. According to the release by the Railways, "the passengers in the private party coach have illegally smuggled gas cylinder and this caused the fire. Many passengers got out of the coach after noticing the fire. Some passengers had got down at the platform itself." The "party coach" was originally intended to travel back to Chennai the following day via Train Number 16824, recognized as the Kollam-Chennai Egmore Ananthapuri Express. Subsequently, its journey was slated to continue from Chennai to Lucknow.
As per the Railways' regulations, the booking of a party coach is open to any individual through the IRCTC portal. However, it is strictly prohibited to carry any items prone to combustion, such as a gas cylinder, within the coach. The designated purpose of the coach is solely for transportation purposes.
Numerous high-ranking authorities, including the Divisional Railway Manager (DRM), an Additional Divisional Railway Manager (ADRM), and various other divisional officers, have arrived at the scene of the incident.
Also Read: Prime Minister Modi Designates August 23 as the National Space Day
Catch all the Latest Business News, Breaking News Events, and Latest News Updates on NewsX