Haryana Nuh Violence: Normalcy Returns 202 Arrested, 80 people detained, says Home Minister Anil Vij
4 August, 2023 | Gautam Thakral
Haryana Nuh Violence: Normalcy Returns 202 Arrested, 80 people detained, says Home Minister Anil Vij
Three days after the Nuh clash and subsequent mob violence in south Haryana, home minister Anil Vij said that 102 FIRs have been registered so far and 202 people were arrested. Nuh SP Varun Singla has been transferred to Bhiwani and IPS officer Narender Bijarnia was appointed as new SP in his place. Mobile internet services were also temporarily suspended in Nuh district on Friday. Earlier, paramilitary forces conducted a flag march in Nuh after a curfew was imposed in the district.
"The arrangements are in place. Through social media and some sources, we have got the information that the Gurugram Police is stopping certain communities and people and not allowing them to go to the mosque for the Friday prayer…We absolutely condemn such information. Gurugram Police is just ensuring that the security arrangements are proper…We are not stopping anybody from going to the mosques.", said Varun Kumar Dahiya, ACP Crime, on Friday prayer.
202 people have been arrested
According to state Home Minister Anil Vij, 202 persons have been detained and 80 have been placed in preventive custody in connection with the recent ethnic violence in Haryana. Vij further stated that 102 FIRs have been recorded in connection with the confrontations, half of which have been registered in Nuh alone and the remainder in neighbouring districts such as Gurugram, Faridabad, and Palwal.
"I want to assure that anyone involved won't be spared," he told reporters in Ambala, adding investigations are going on.
Nuh SP transferred
3 days after violence in Haryana's Nuh district, superintendent of police (SP) Varun Singla was transferred on Thursday late night, and made the SP of Bhiwani.
According to a government order by additional chief secretary (Home) T.V.S.N Prasad, Narendra Bijarniya, who was holding the additional charge in Singla's absence, will be the new SP of Nuh.
The order said, Singla, at present SP Nuh, has been transferred and posted as SP, Bhiwani. Bijarniya, SP, Bhiwani, who was also functioning as OSD to additional DGP (Law & Order), in addition to his present duties to assist her in maintaining the law and order situation, has been transferred and posted as SP, Nuh.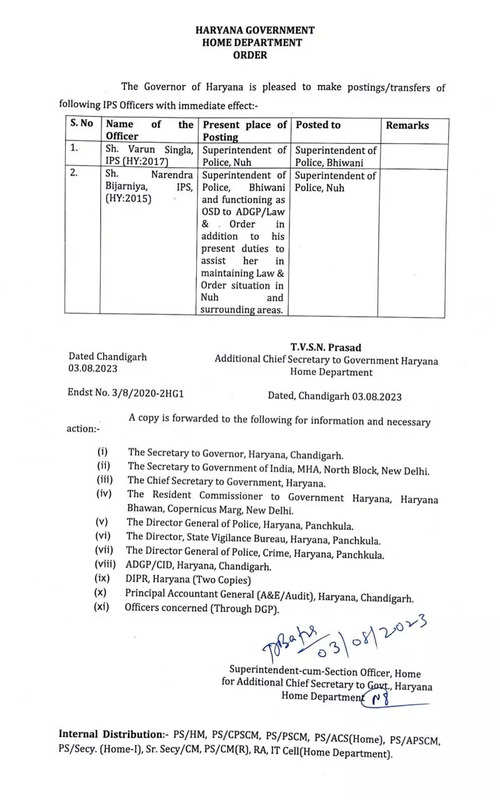 Six people, including two home guards, died in the clashes that erupted in Nuh.
Stating that anyone found responsible for the communal clashes will not be spared, T.V.S.N Prasad on Thursday claimed that the situation is fast returning to normal in the state. Additionally, he added that a centre of the Rapid Action Force, CRPF's anti-riot unit, will soon set up in Nuh.
No Friday Prayers in Mosques
Friday prayers are going on in the Rajiv Chowk Mosque with 20–25 people. Earlier, there were 60 people. They are conducting the prayers in slots. The entrance to the mosque area is barricaded. Police are present in the mosque as well.
Friday prayers were called off in neighbourhood parks like Spice Jet Park in Udyog Vihar Phase 4 and Shankar Chowk. Not even a single person was present in the park for namaz. Usually, 150 people gather here. Some who came to attend the prayers had to go back as per the police's instructions.
Residents Unsafe
Afrah (name changed), a Gurgaon resident for two decades, has relocated temporarily to a Delhi hotel. "I have never felt so unsafe in the last 20 years. For the safety of my children, I decided to shift to a hotel after violence broke out in Nuh and Gurgaon," he said.
"We heard about the violence in Nuh, and our friends informed us that it has spread to Sohna. My kids—five, seven and eight years old—accidentally saw some videos on their tablets, which left them scared. So, I decided to move out as soon as possible and booked a hotel." Faizan (name changed) said.
Also Read: NewsX Big Debate: 600+ Armed Mob On Rampage
Catch all the Latest Business News, Breaking News Events and Latest News Updates on NewsX)