Heavy rains in Delhi, water-logging reported in several parts
10 July, 2023 | Anupam Shrivastava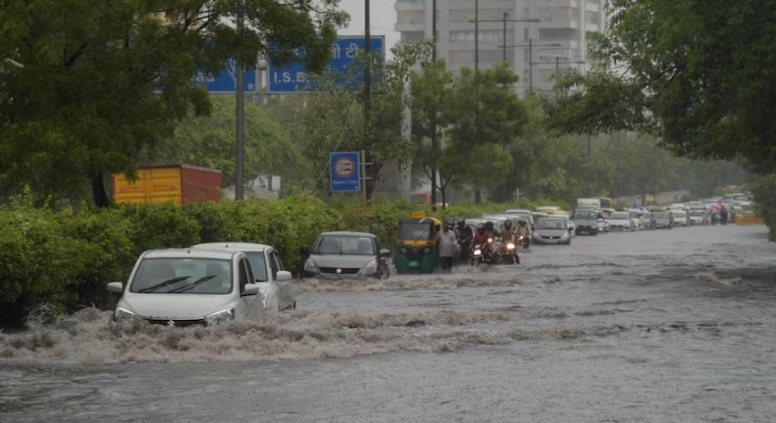 Delhi-NCR is likely to receive heavy rainfall in next 24 hours as per the IMD prediction.
Delhi is witnessing heavy rain since yesterday. There were various flooded areas in Delhi as a result of the intense thunderstorm, and some building collapses were also recorded.
In areas like India Gate, Greater Kailash, Feroz Shah Road, Rafi Marg, Lodhi Estate, and Shantipath, Delhi saw severe rain. IMD predicts a significant downpour in the upcoming 24 hours, however in the coming four to five days, the intensity will be minimal.
"Yesterday's intensity of rain will continue in the mountains. The intensity will lower in the plains, still, there are predictions of rainfall. Delhi-NCR is likely to receive heavy rainfall in the next 24 hours, although, for the next four to five days, the intensity will remain low. Uttarakhand and Himachal Pradesh are likely to receive extremely heavy rainfall in the next 24 hours…," said Charan Singh, the head of Head Regional Meteorological Centre, Delhi.
Delhi administration prepared to handle any situation: Delhi Mayor Shelly Oberoi
While the heavy thunderstorm continues, Delhi Mayor Shelly Oberoi reaffirmed that the Delhi administration is completely prepared to handle any situation. She continued by saying that the workers and cops never stop clearing the flooded roadways.
"The amount of rainfall in 12 hours on Saturday was 15 per cent of the total monsoon. The record of the last 20 years has been broken. As far as the preparations are concerned, we were fully prepared. However, the problem of waterlogging arose because of record rainfall. I want to ensure the public of Delhi that all the officers and workers are working continuously…They have been working day and night in places where there is waterlogging," Delhi Mayor Shelly Oberoi stated.
Inspecting waterlogging spots to enhance water pumping capacity, prepared for high water level of Yamuna: Delhi Minister Atishi
After Delhi experienced 150mm of rain, Delhi Minister Atishi visited Tilak Bridge and ITO neighbourhoods to assess the condition.
She told that the mayor of Delhi and all other ministers are looking at potential waterlogging spots and aiming to improve our city's ability to withstand severe downpours.
"All Delhi ministers and the mayor are examining the spots where waterlogging might happen. All pumping stations were functioning yesterday. Now, we are working to enhance our capacity. It is expected that the water level in the Yamuna River will rise by July 11 as 45,000 cusecs of water have been released from Hathni Kund today," Minister Atishi told.