Himachal Pradesh: Choppers carried out over 50 sorties in last 48 hours, rescued over 780 people, says IAF
17 August, 2023 | Anamika Singh Parihar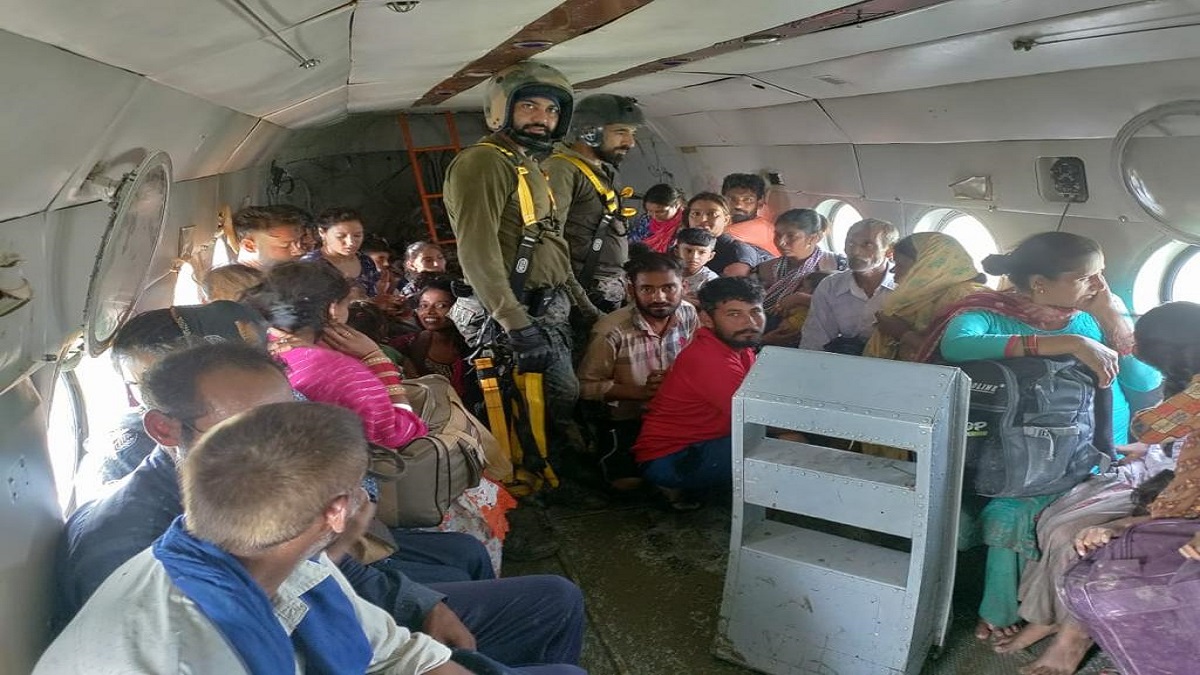 Western Air Command choppers successfully evacuated 780 residents from flood-stricken Kangra district of Himachal Pradesh in 48 hours.
In the preceding 48 hours, choppers under the Western Air Command were engaged in more than 50 missions, successfully evacuating over 780 residents from flood-stricken regions within Himachal Pradesh's Kangra district, as communicated by Indian Air Force authorities on August 16.
Regarding the ongoing relief and rescue operations in Fatehpur sub-division of Kangra district, Deputy Commissioner, Kangra, Nipun Jindal, told ANI, "A total of 800 trapped civilians were rescued on August 15. Further rescue operations are underway with the help of NDRF, the Indian Army, and the Indian Air Force. All necessary arrangements have been made for those rescued so far. Relief camps have also been set up for them."
Earlier on August 16, Sukhvinder Singh Sukhu, the Chief Minister of Himachal Pradesh, undertook an aerial survey of the flood-affected areas, namely Indora and Fatehpur within the Kangra district. He assessed the ongoing operations for relocating individuals from the inundated areas downstream of the Pong Reservoir, along with supervising additional relief endeavors.
During interactions with individuals at relief shelters in Damtal and Shekhpura, the Chief Minister inquired about their welfare and assured them of the government's full support.
Furthermore, he conveyed his distress regarding the lives lost and the significant material devastation caused by intense rainfall and flooding in the higher elevations of the state. Sukhu emphasized that both public and private assets have suffered extensive harm. Numerous residents witnessed their residences being swept away, while extensive agricultural land has been inundated, resulting in immeasurable setbacks for farmers.
"I assure you of a special package, especially for these areas, including compensation and relief materials," CM, Sukhvinder Singh Sukhu said in his statement.
He instructed the authorities to ensure that individuals residing in relief camps receive proper care and attention. In addition to providing complimentary accommodation and meals, the health department has deployed medical teams to attend to the needs of children, seniors, and others, according to officials.
The Chief Minister also guided officials to guarantee an ample supply of food and necessary medications for the ongoing relief efforts. The toll resulting from rain-related incidents in the past three days has been reported as 71, as conveyed by officials on Wednesday.
Speaking with ANI, Onkar Chand Sharma, the Principal Secretary of Disaster Management, shared that continuous rainfall between August 13 and 15 has led to a cumulative loss of 71 lives, while the overall financial impact of this monsoon has been estimated to be approximately Rs 7,500 crore.
Also Read: Rahul Gandhi is Anticipated to Fly Off for Two-Day Trip to Ladakh