PM Modi leaves for Hiroshima to attend Japan G7 Summit for first leg of three-nation visit
19 May, 2023 | Anupam Shrivastav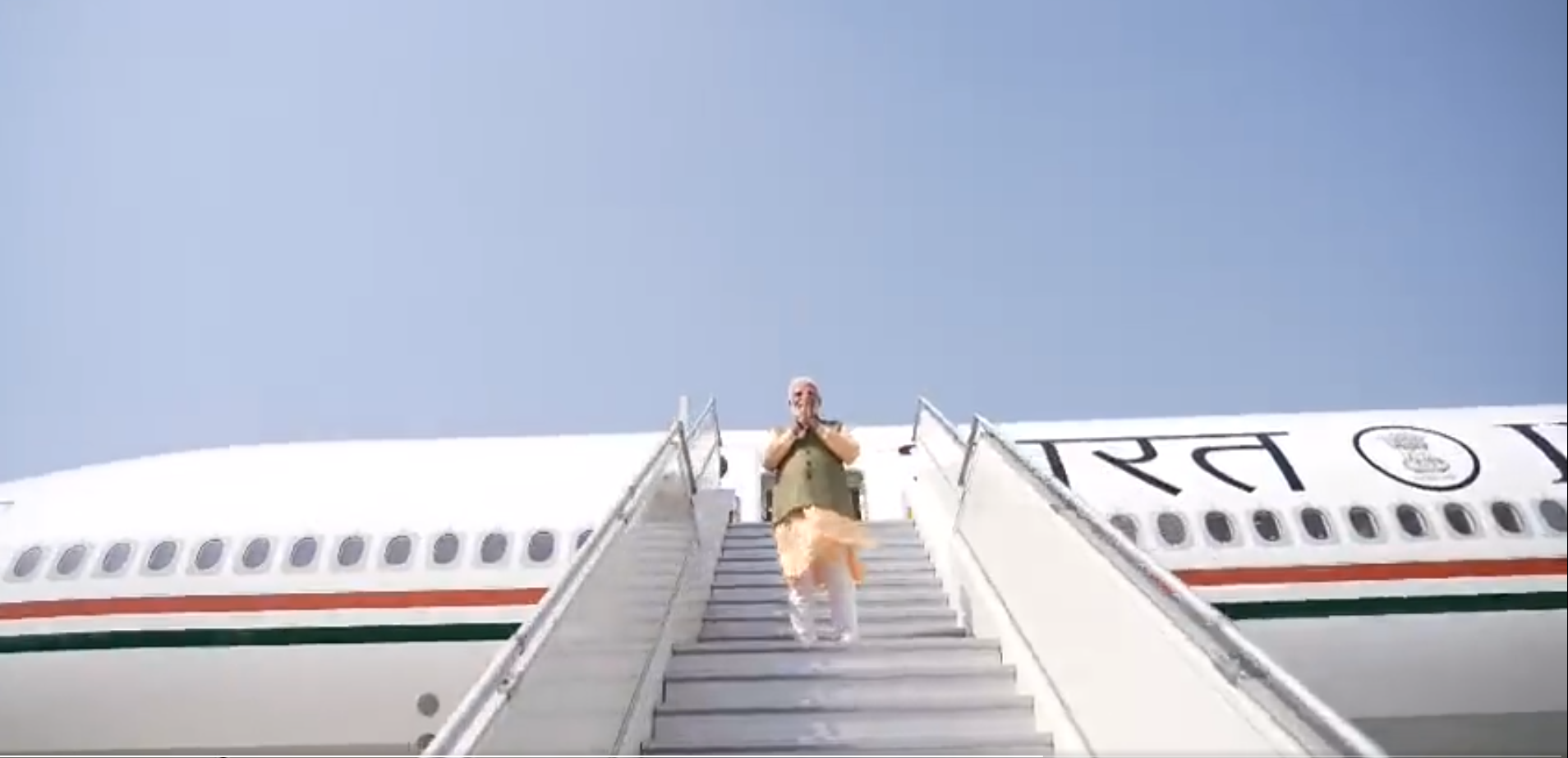 PM Modi emplaned for Hiroshima on Friday morning where he will represent India as guest country for the G7 summit.
The first phase of Prime Minister Narendra Modi's three-nation trip, which also includes stops in Papua New Guinea and Australia, began on Friday with his departure for Japan to attend the G7 Summit in Hiroshima.
India has been invited to attend the G7 conference as a guest nation. Nuclear disarmament, economic resilience and security, regional concerns, climate and energy, food and health, and development are the main focuses of the G7 summit's outreach to the invited guest nations. PM Modi is expected to meet with Fumio Kishida, the prime minister of Japan, and other leaders during his tour.
There is a proposal for the Quad leaders to meet in Hiroshima, according to Foreign Secretary Vinay Mohan Kwatra. The US President Joe Biden postponed his trip because of the vital debt-ceiling negotiations in Washington, thus the Quad meeting which was supposed to take place in Australia—was canceled.
In his remarks before leaving, Prime Minister Modi said that India's current G20 Presidency makes his attendance at the G7 Summit extremely significant. From May 19 to 21, the G7 Summit will take place in Hiroshima, Japan.
"I will leave for Hiroshima, Japan to attend the G7 Summit under the Japanese Presidency at the invitation of Mr. Fumio Kishida, Prime Minister of Japan. It will be a pleasure to meet Prime Minister Kishida again after his recent visit to India for the India – Japan Summit. My presence in this G7 Summit is particularly meaningful as India holds the G20 Presidency this year," the statement said.
"I look forward to exchanging views with the G7 countries and other invited partners on challenges that the world faces and the need to collectively address them. I would also be holding bilateral meetings with some of the leaders attending the Hiroshima G7 Summit," he added.
Prime Minister Modi will unveil the bust of Mahatma Gandhi in Hiroshima, Japan
In Hiroshima, the Prime Minister will also dedicate a bust of Mahatma Gandhi. PM Modi will depart from Japan and proceed to Port Moresby, Papua New Guinea. It will be PM Modi's maiden trip to Papua New Guinea and the first trip of any Indian prime minister in history.
PM Modi will depart from Japan and proceed to Port Moresby, Papua New Guinea. It will be PM Modi's maiden trip to Papua New Guinea and the first trip of any Indian prime minister in history.
During Prime Minister Modi's 2014 visit to Fiji, FIPIC was established. Along with his bilateral meetings with the FIPIC leaders, PM Modi will also meet with the leaders of Papua New Guinea, including Prime Minister Marape, Governor General Sir Bob Dadae, and some of the other PIC nations represented at the summit.
PM Modi will go to Sydney at the request of Australian Prime Minister Anthony Albanese following his visit to Papua New Guinea. He will meet with Australian CEOs and business executives during his visit. PM Modi will engage with the Indian community in Sydney at a special event.
In a series of tweets, PM Modi expressed his excitement for having fruitful discussions while visiting three nations. "Leaving for Japan, where I will be joining the @G7 Summit in Hiroshima. Looking forward to a healthy exchange of views on diverse global subjects.
"After the Japan visit, will be in Papua New Guinea to take part in the FIPIC Summit, a vital forum to boost multilateral cooperation. There will be productive deliberations on subjects such as sustainable development, climate change, healthcare and more," he added.
"I will be in Australia, where I will be holding talks with my friend, PM @AlboMP. This visit will further cement the India- Australia friendship. I also look forward to interacting with the vibrant Indian community and meeting top Australian CEOs," the prime minister said in his tweet.
Arindam Bagchi, the spokesman for the Ministry of External Affairs, stated that PM Modi's tour presents a chance to interact with significant partners in both multilateral and bilateral forms.
"PM @narendramodi embarks on a visit to Japan, Papua New Guinea & Australia. First leg of the visit takes him to Japan for the @G7 Summit. An opportunity to engage with important partners in multilateral and bilateral formats," Bagchi's tweet read.