Indian Air Force Bolsters Surveillance and Strike Capabilities with Heron Mark 2 Drones In North
13 August, 2023 | Anupam Shrivastava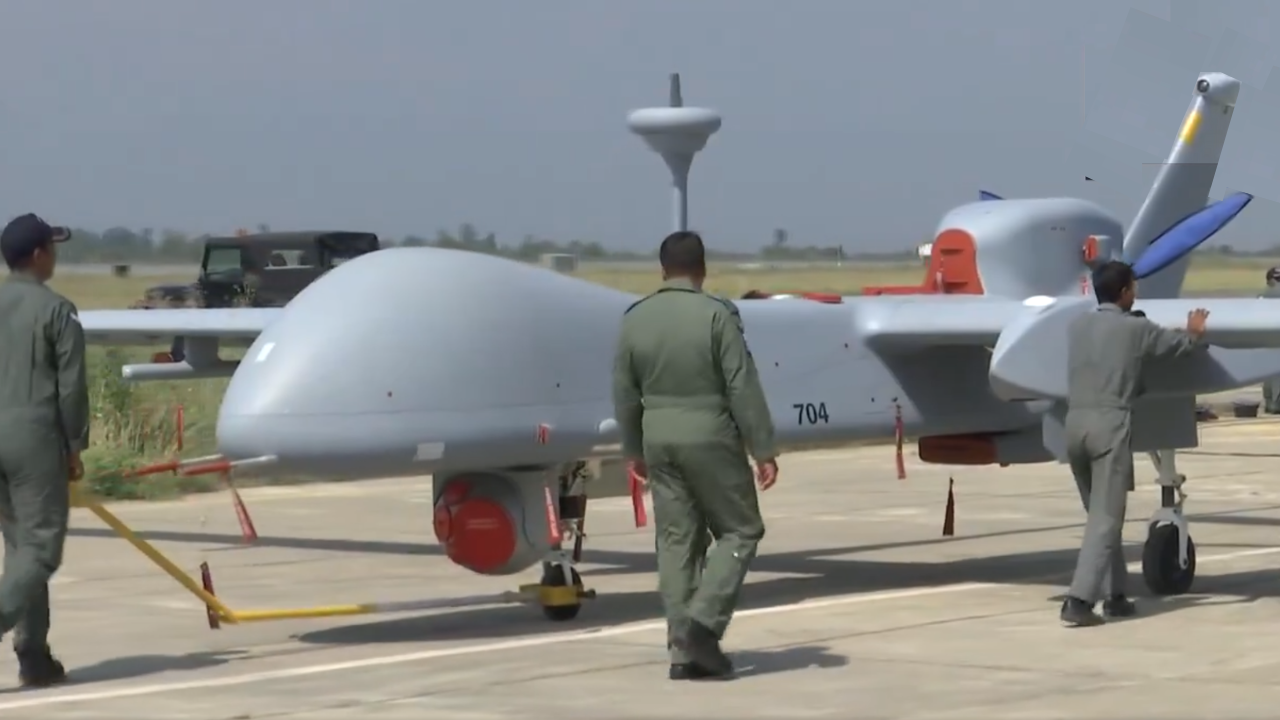 The next versions of Heron drones are poised to be equipped with advanced weapons and versatile sensors to fulfill diverse roles across different terrains.
In a significant enhancement of its operational capabilities, the Indian Air Force has introduced its latest Heron Mark 2 drones, a technological marvel with strike capabilities and the capacity to conduct surveillance along the borders adjoining China and Pakistan within a single mission. These cutting-edge drones, a total of four in number, are now stationed at a forward air base in the northern region, and their operations were conducted.
These Heron Mark-2 drones are equipped with the ability to be armed with long-range missiles and other advanced weapon systems. This marks a substantial advancement for the Indian Air Force, as these drones have the capacity to operate at extremely long distances for nearly 36 hours continuously. Additionally, they possess the capability to illuminate enemy targets using laser technology from considerable distances, thereby aiding fighter aircraft in engaging and neutralizing these threats using their own long-range weaponry.
Wing Commander Pankaj Rana, in an exclusive interview with media at the base, shared insights about the remarkable capabilities of the Heron Mark 2. He emphasized that these drones offer an extended endurance period, enabling multiple missions to be conducted and various sectors to be covered within a single operation. With their integration into the Intelligence, Surveillance, and Reconnaissance (ISR) framework of the Indian Air Force, these drones provide a seamless and comprehensive surveillance solution.
One of the key strengths of these drones is their capacity for continuous 24×7 target surveillance. Advanced avionics and engines have led to an increase in the operational ceilings of these aircraft, allowing them to operate effectively in diverse weather conditions and challenging terrains. Notably, these drones are capable of simultaneously covering both adversarial territories in a single sortie, showcasing their exceptional operational reach.
Efforts to arm these drones are currently underway, with Defence officials stating that these vehicles can be equipped with a variety of weaponry, including air-to-ground missiles, air-to-ground anti-tank weapons, and bombs. Squadron Leader Arpit Tandon, a pilot of the Heron Mark 2 drone, highlighted that this version boasts numerous advantages over its predecessors from the early 2000s. Its payloads and onboard avionics can function optimally even in sub-zero temperatures and adverse weather conditions, facilitating the Indian Air Force's presence over diverse terrains.
Moreover, the Indian Air Force is actively pursuing Project Cheetah, an initiative aimed at upgrading around 70 of the Indian Armed Forces' existing Heron drones with satellite communication links and weaponization capabilities. This effort aligns with the armed forces' evolving requirements and objectives. Additionally, the Indian armed forces are set to receive 31 Predator drones, characterized by their high-altitude and long-endurance capabilities. These drones are currently assisting the Navy in extensive coverage of the Indian Ocean region.
The upcoming versions of these drones are poised to be equipped with weapons and versatile sensors to fulfill diverse roles across different terrains. While the Indian Navy will operate fifteen of these drones, the other two branches of the armed forces will each receive eight, contributing to India's ever-advancing technological prowess in the field of unmanned aerial vehicles.
Also Read: Asian Champions Trophy: India script epic comeback to defeat Malaysia for fourth title