'India becoming excellent conductor for semiconductor investments,' says PM Modi
28 July, 2023 | Srishti Ruchandani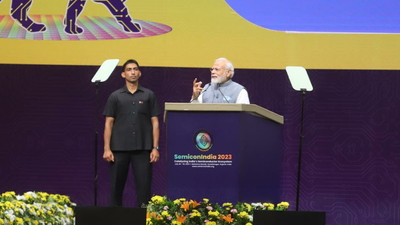 "As India moves forward on the path of reform, new opportunities will be created. India is becoming an excellent conductor for semiconductor investments," PM Modi said at the inaugural session of '...
On Friday, Prime Minister Narendra Modi stated that India is "rolling out the red carpet" for the semiconductor industry, as he invited global semiconductor majors to invest in India.
PM Modi said whosoever comes forward will have a "first mover's advantage." "As India moves forward on the path of reform, new opportunities will be created. India is becoming an excellent conductor for semiconductor investments," PM Modi said add-respeaking speaking at the inaugural session of 'SemiconIndia 2023' in Gandhinagar, Gujarat.
Addressing  a gathering in Gujarat's Gandhinagar which is hosting the country's annual chip meet, SemiconIndia 2023 PM Modi said "Who can be a more trusted partner than the world's largest democracy (India)."
He also expressed happiness about the growing global trust in India.
Themed 'Catalysing India's Semiconductor Ecosystem', the second edition of the conference organized by India Semiconductor Mission in partnership with industry and industry associations, is aimed at making India a global hub for semiconductor design, manufacturing, and technology development. The inaugural edition of Semicon India was held in Bengaluru last year.
The world is recovering from the side effects of the Covid-19 pandemic and the Russia-Ukraine war, the PM said, adding that it's not just India that needs chips, but the world, which needs a "trusted partner" for their supply chains.
"Investors trust India as it has a stable, responsible, and reform-oriented government. The industry has faith in India as infrastructure is developing in every sector. The tech sector believes in India as technology is growing here. The Semiconductor Industry trusts India as we have a massive talent pool", the prime minister said.
"Skilled engineers and designers are our strength. Anyone who wants to be a part of the world's most vibrant and unified market has faith in India. When we tell you to make in India, it also includes that let's make for India, Make for the world", he said
The Prime Minister said that India understands its global responsibilities and is working on a comprehensive roadmap with friendly countries.
SemiconIndia 2023 witnessed the participation of representatives of major companies. CEO of Cadence Anirudh Devgan, Chairman of Foxconn Young Liu, Chairman of Vedanta Anil Aggarwal, CEO of Micron Sanjay Mehrotra, CTO of AMD Mark Papaermaster, and President of Semiconductor Products Group at Applied Materials Prabu Raja were present on the occasion.
On the first day of the conference, American multinational semiconductor Advanced Micro Devices (AMD) announced it will invest approximately USD 400 million in India over the next five years. The planned investment includes a new AMD campus in Bengaluru that will serve as the company's largest design and R&D center. It intends to add about 3,000 new engineering roles by the end of 2028 in India.
Notably, India recently received various investment proposals in the semiconductor ecosystem.
Last month during PM Modi's state visit to the US, Micron Technology announced it will invest up to USD 825 million to build a new semiconductor assembly and test facility in India with support from the Indian government.
Also, Applied Materials had committed to invest USD 400 million to establish a collaborative engineering centre in India. Lam Research had proposed it will train 60,000 Indian engineers through its Semiverse Solution virtual fabrication platform to accelerate India's semiconductor education and workforce development goals.