I.N.D.I.A Bloc Resolves to Contest Lok Sabha Elections as a Unified Front
1 September, 2023 | Akshara Tyagi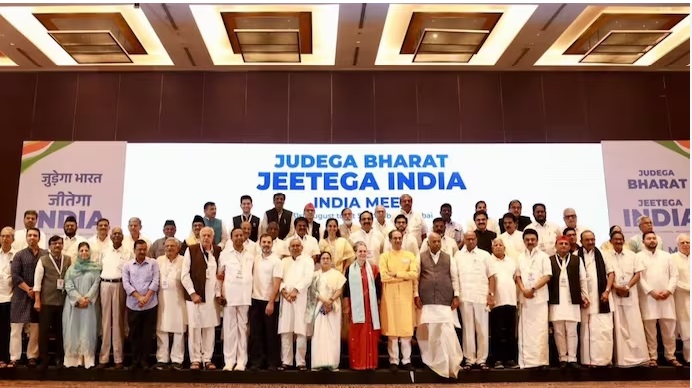 Opposition bloc parties in Mumbai meet to unite, contest elections, and establish seat-sharing agreements for cooperation
In a recent Mumbai meeting, the I.N.D.I.A parties in the Opposition bloc passed a resolution to unite and contest the upcoming elections collectively. They also committed to initiating and concluding seat-sharing agreements in various states in a spirit of cooperation. During the second day of the meeting, the INDIA conference discussed strategies to confront the central government.
"We, the I.N.D.I.A parties, hereby resolve to contest the forthcoming Lok Sabha elections together as far as possible. Seat-sharing arrangements in different states will be initiated immediately and concluded at the earliest in a collaborative spirit of give-and-take," reads the resolution passed by the Opposition's Indian National Developmental Inclusive Alliance (INDIA) bloc.
This development occurred at a time when the Centre announced the formation of a "One nation, one election" committee led by former President Ram Nath Kovind. This move has elicited strong reactions from Opposition leaders, who view it as a response to their increasing strength and, in some cases, as unconstitutional.
Speaking to ANI, Assam CM Himanta Biswa Sarma said, "Today PM Narendra Modi has taken a very landmark decision by appointing a commission to look after the issue of 'One Nation, One Election'. I am very happy that a person of stature like Ram Nath Kovind Nath has accepted the offer. Multiple elections involve lots of money and because every time India is in election mode development suffers a lot."
In contrast, BJP leaders have welcomed the idea of "One nation, one election," which involves synchronizing Lok Sabha and state assembly elections.
Also Read: Delhi Police Conducts 3-Month Helicopter Slithering Training for G20 Preparation
Catch all the Latest Business News, Breaking News Events, and Latest News Updates on NewsX