India Introduces First UPI ATM for Convenient Cardless Cash Withdrawals
7 September, 2023 | Akshara Tyagi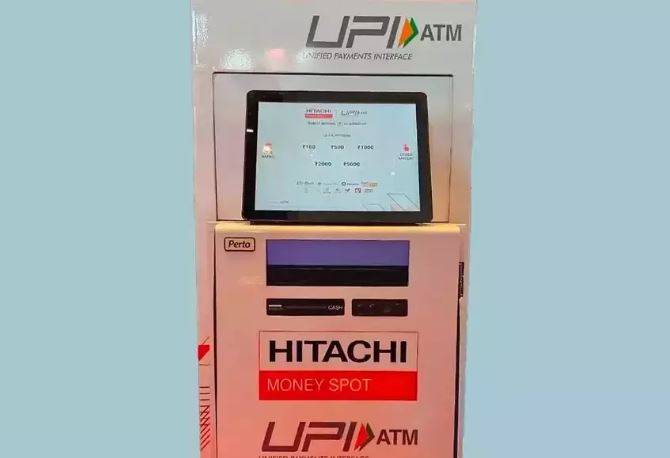 Hitachi Payment Services and NPCI have introduced India's first UPI ATM, operating as a White Label ATM
India has witnessed remarkable growth in digital payments, with the Unified Payments Interface (UPI) becoming the dominant mode, constituting over half of all digital transactions. Taking this digital payment revolution a step further, Hitachi Payment Services, in collaboration with the National Payments Corporation of India (NPCI), has introduced the nation's inaugural UPI ATM, operating as a White Label ATM (WLA).
This landmark development marks a significant advancement in India's digital payment ecosystem.
The introduction of the 'UPI ATM' represents a noteworthy achievement in banking services, as it seamlessly combines the ease and security of UPI with traditional ATMs. This groundbreaking idea aims to offer rapid cash access, even in remote parts of India, eliminating the necessity for a physical card.
To perform transactions, individuals must have a UPI application installed on their Android or iOS smart phones.
How is this operationalized?
The UPI-ATM service, also referred to as Interoperable Cardless Cash Withdrawal (ICCW), provides a convenient method for UPI users from participating banks to withdraw cash from UPI-ATM-enabled ATMs without needing a physical card.
When a customer chooses the 'UPI cash withdrawal' option at the ATM, they will be asked to input the desired withdrawal amount. After entering the amount, a unique and secure dynamic QR code will be displayed on the ATM screen.
To complete the transaction and receive cash from the ATM, the customer only needs to scan this QR code using any UPI app and validate the transaction with their UPI PIN on their mobile device.
Here are the steps to withdraw cash from a UPI-ATM:
Choose the amount you wish to withdraw.
The UPI QR code matching your selected amount will appear.
Utilize your UPI app to scan the QR code.
Input your UPI PIN to validate the transaction.
Retrieve your cash.
Moreover, it will enhance financial inclusion by simplifying access to banking services in regions with limited traditional banking infrastructure and low card usage. Leveraging cutting-edge technology, the Hitachi Money Spot UPI ATM provides a smooth digital experience for users.
Hitachi Payment Services has consistently introduced inventive solutions in the payments sector and currently stands as the sole White Label ATM operator providing Cash Deposit capabilities. This service is accessible at over 3,000 ATM locations.
Also Read: First-ever US-ASEAN Center to be Established in Washington
Catch all the Latest Business News, Breaking News Events, and Latest News Updates on NewsX