Indian Council of Agricultural Research signs MOU with Amazon Kisan to empower farmers
9 June, 2023 | Riddhi Oza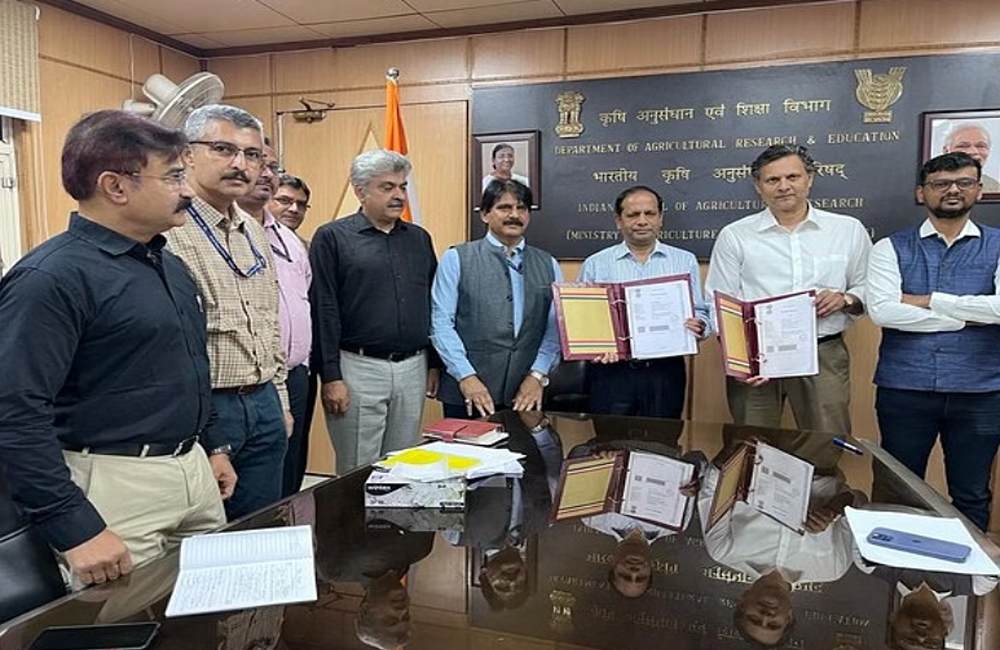 With an objective to empower farmers, ICAR signs MoU with Amazon Kisan in New Delhi.
The Indian Council of Agricultural Research (ICAR), signed a MOU with Amazon Kisan in New Delhi on Friday. The objective of the MOU is to bring together the capabilities and generate a mutually beneficial outcome between the two organizations, aimed at providing farmers with scientific guidance for optimal crop cultivation and increased income. The MOU was signed by Dr US Gautam, Deputy Director General (Agricultural Extension) and Siddharth Tata, Product Leader, Amazon Fresh Supply Chain and Kisan.
According to an official statement, the Indian Council of Agricultural Research (ICAR) will offer technical support to farmers through Amazon's network. This collaboration seeks to enhance farmers' livelihoods and improve crop yields. The Memorandum of Understanding (MoU) between ICAR and Amazon's Kisan program aims to ensure that consumers across India, including those using Amazon Fresh, have access to high-quality fresh produce.
During the event, Dr Himanshu Pathak, Secretary DARE and Director General ICAR emphasized the current state of Indian agriculture and highlighted the importance of diversifying agricultural activities to improve farmers' income. He also emphasized the significance of critical inputs in agriculture and the need for season-based crop planning. Dr Pathak stated that ICAR will work together with Amazon on technology implementation, capacity building, and knowledge transfer. He expressed optimism for the success of this Public-Private-Peasants-Partnership (PPPP).
Harsh Goyal, the Director and Head of Fresh and Everyday Essentials at Amazon India, highlighted the company's dedication to supporting farmers in India. He emphasized the significant potential of technology in revolutionizing the agricultural sector and improving the lives of Indian farmers. Goyal stated that through this partnership, an ecosystem will be created to benefit the farming community and strengthen the entire "farm to fork" supply chain.
According to the official statement, ICAR and Amazon will join forces to disseminate the latest and most accurate agricultural practices developed through ICAR's extensive research. The aim is to address the knowledge gaps in integrated cultivation by utilizing ICAR's Krishi Vigyan Kendra Knowledge (KVK) network.