Indian Duo Satwik and Chirag Make History with Indonesia Open Doubles Victory
18 June, 2023 | Priya Rani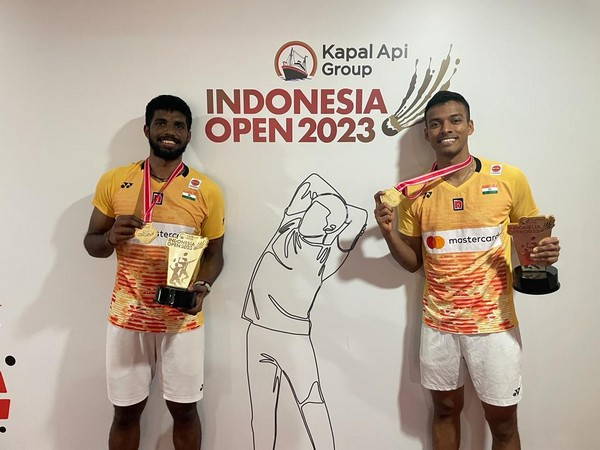 Satwik and Chirag become first Indian duo to win maiden at Indonesia Doubles
Satwiksairaj Rankireddy and Chirag Shetty made history as the first-ever Indian doubles pair to win the doubles category at the Indonesia Open Super 100 event in Jakarta. They emerged victorious by defeating Malaysia's Aaron Chia and Soh Wooi Yik in straight sets with a score of 21-17, 21-18.
With this achievement, the Indian duo adds to their impressive list of accolades, including a Commonwealth Games gold, a Thomas Cup gold, bronze medals in the World Championships, and titles in various Super 300, Super 500, and Super 750 events. The only milestone remaining for them is the coveted Olympic medal.
Despite a strong start by Aaron and Soh, Satwik and Chirag turned the tide in the first game after leading 11-9 at the mid-game break. They maintained their composure and ultimately secured a 21-17 victory in the first set. In the second set, the Indian pair continued their momentum, and although their Malaysian opponents attempted a comeback, Satwik and Chirag held their ground and clinched the title with a 21-18 win. The entire match lasted only 43 minutes, marking a historic achievement for the Indian team.
In a previous landmark moment, Satwik and Chirag became the first Indian men's doubles pair to win a gold medal at the Badminton Asia Championships, ending a 52-year wait for India in the event. This victory in the Indonesia Open was their 14th win in 17 BWF finals, boosting their win percentage to an impressive 82.35%. Notably, it was also their first triumph over the Malaysian pair in nine encounters.
The BWF World Tour comprises different levels, including the World Tour Finals, Super 1000, Super 750, Super 500, and Super 300. Each level offers varying ranking points and prize money, with the Super 1000 level being the highest in terms of both. The Super 100 level, which also grants ranking points, is part of the tournament structure.