Indian embassy in Kuwait celebrates 77th Independence Day
15 August, 2023 | Shubhi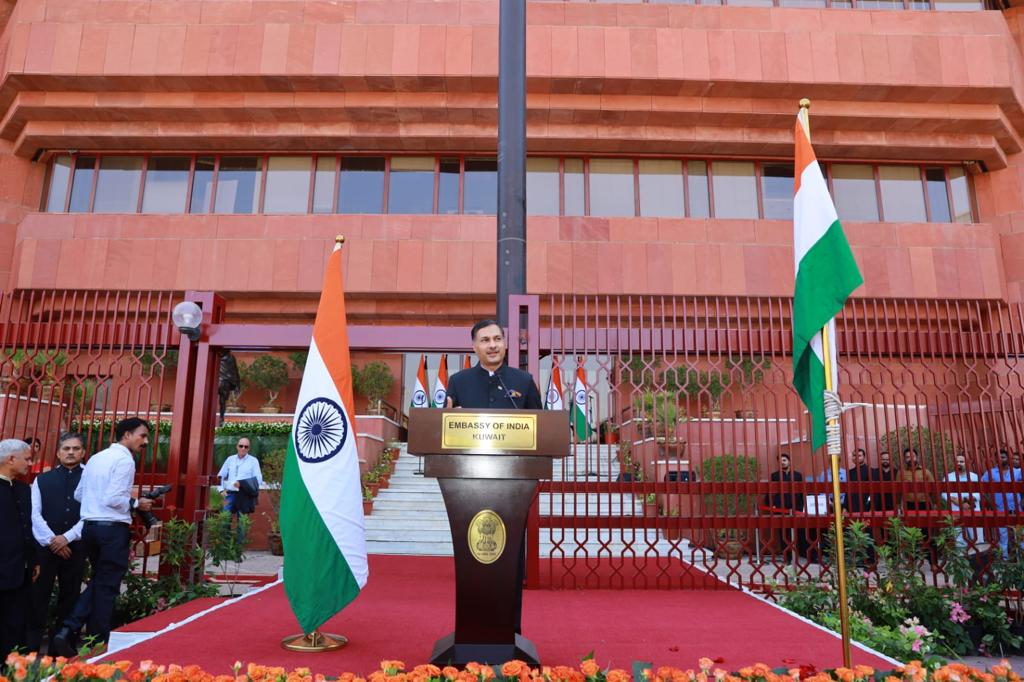 Indian embassy in Kuwait celebrates 77th Independence Day
On the 77th anniversary of Independence Day, the Indian embassy in Kuwait raised the Tricolor. Adarsh Swaika, the Indian ambassador to Kuwait, raised the flag and read President Droupadi Murmu's speech to the people the night before Independence Day.
This celebration at the Indian Embassy in Kuwait is shown in a few glimpses.
The ambassador raised the Tricolor and recited Honourable President Droupadi Murmu's speech to the country.
The Independence Day was also observed earlier by the Indian embassy in Medan, an Indonesian city. Members of the Tamil Community of Indian Origin performed Vande Mataram. A celebration of Independence was already held by the Indian mission in Kathmandu.
The event was a part of the Union government's "Azadi Ka Amrit Mahotsav" project, which was created to commemorate 75 years of India's independence as well as the great accomplishments of Indians in a variety of fields.
The national flag of India was raised in the nation of the Gulf by Indian Ambassador to Nepal Naveen Srivastava.
Then, President Droupadi Murmu's speech to the nation on the eve of Independence Day was broadcast, stressing the advancements made recently in various disciplines and paying respect to the Ambassador Naveen Srivastava honoured the widows and relatives of Indian Armed Forces Gorkha troops who had died during the celebration by distributing blankets to each family and their respective dues, totalling crore.
Teachers and students from the Embassy's Swami Vivekananda Cultural Centre and Kathmandu's Kendriya Vidyalaya School performed patriotic songs and dances throughout the ceremonies.
While this was happening, Prime Minister Narendra Modi of New Delhi raised the Tricolor at the Red Fort before giving his annual speech to the nation.
Also Read: Chhattisgarh CM Bhupesh Baghel announces integration of AI, Machine Learning in school curriculum
Catch all the Latest Business News, Breaking News Events and Latest News Updates on NewsX)