Indian Ambassador Inspects US Embassy Amid Pro-Khalistani Threats
9 July, 2023 | Priya Rani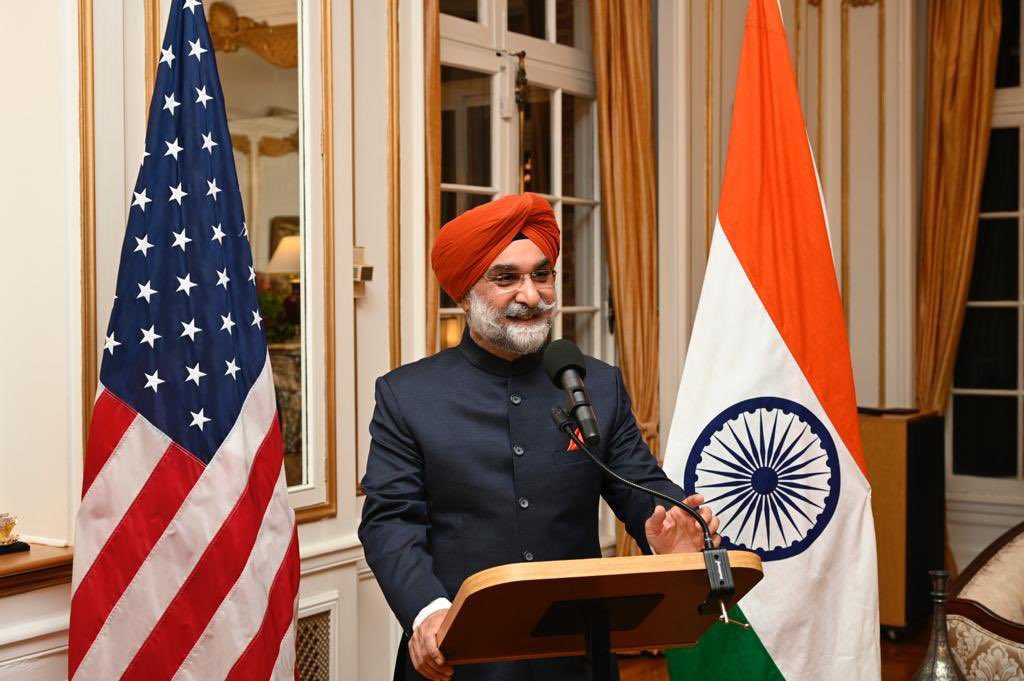 The Indian Ambassador to the United States, Taranjit Singh Sandhu, inspects embassy in response to pro-Khalistani protests.
The Indian Ambassador to the United States, Taranjit Singh Sandhu, visited the Indian embassy in Washington DC on Saturday to assess the security measures in light of the threats issued by pro-Khalistanis to hold protests outside Indian missions across the country. Accompanied by officials, Ambassador Sandhu conducted a thorough inspection of the premises and its annexe, ensuring that all necessary arrangements were in place.
According to officials so far, there have been no reports of disorder or disturbances outside the Indian consulate, and there is no visible indication of any ongoing protests. However, as a precautionary measure, barricades have been set up and a significant number of police personnel have been deployed outside the Indian Consulate in San Francisco. These measures aim to prevent any untoward incidents amidst the calls for protests by pro-Khalistani elements outside Indian missions on Saturday.
In a recent incident on July 2, San Francisco witnessed attempted arson and violent rhetoric targeting Indian diplomats, including Ambassador Taranjit Singh Sandhu. Considering the seriousness of these threats, security has been bolstered outside the Indian embassy in Washington DC. Metropolitan police and private security personnel have taken up positions to ensure the safety of the diplomatic mission.
The police enforcement agency has explicitly stated that no permits have been issued for protests outside the embassy. Since morning, police vehicles and officials have maintained a visible presence, cordoning off the entire premises.
Alongside, security has also been reinforced outside Ambassador Sandhu's residence, the India House.
These protests come in the wake of the recent killing of Hardeep Singh Nijjar, the chief of the Khalistan Tiger Force and a designated terrorist, in Canada. Nijjar was wanted in India on terrorism charges. Following his demise, demonstrations were organized in various cities worldwide, including Melbourne, San Francisco, and Toronto. Threatening posters directed at Indian ambassadors to Canada and the US, as well as the Consulate General in Toronto, also announced rallies outside Indian missions in the UK, San Francisco, and Canada on Saturday.
In London, the protest outside the Indian High Commission remained relatively subdued, with only 30-40 pro-Khalistanis gathering between 12:30 pm and 2:30 pm GMT on Saturday. Nonetheless, security was heightened in the area, with additional police forces deployed to the spot.
Amidst the escalating violence targeting Indian diplomats outside diplomatic premises and the threats received in London, the Ministry of External Affairs spokesperson, Arindam Bagchi, addressed the issue during a briefing on Thursday. Bagchi stated, "This violence against our diplomats and inside our diplomatic premises abroad is unacceptable, and we condemn them in the strongest terms." He further emphasized that New Delhi would judge the UK authorities based on their actions taken to address these threats.