ISRO's Pragyan Rover's Moon Stroll Marks Chandrayaan-3's Achievement
24 August, 2023 | Shubhi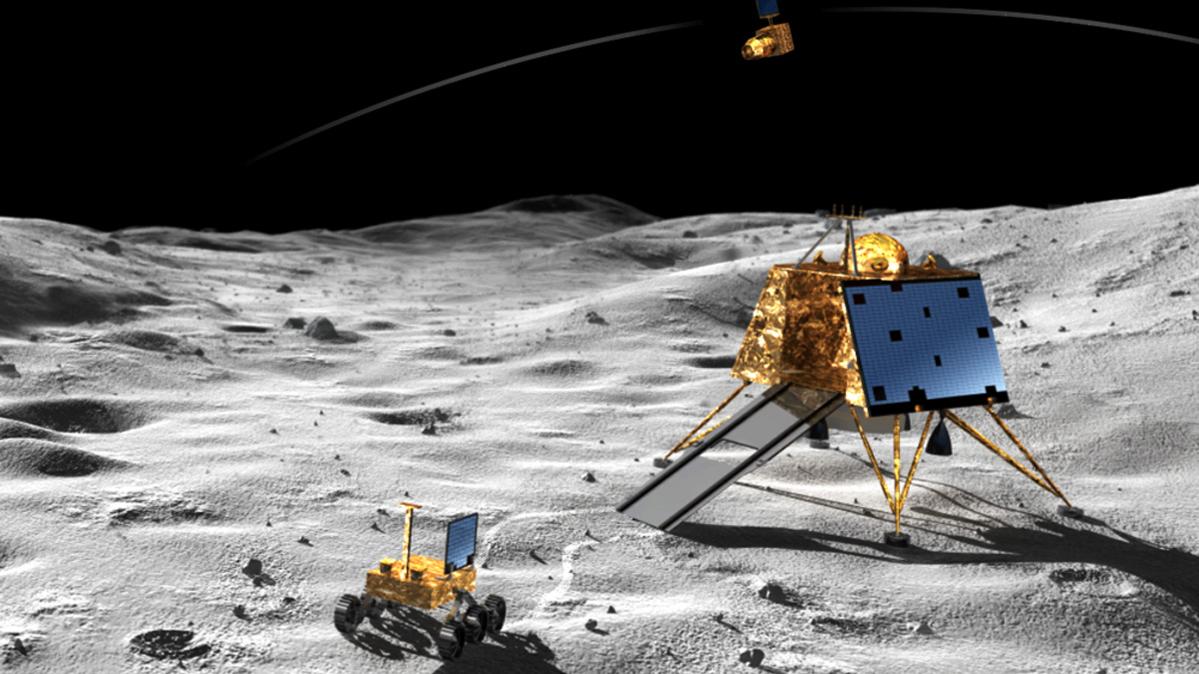 India's Chandrayaan-3 moon rover launches mission to explore unexplored lunar terrain, announced by ISRO on Twitter
The space agency reported that the previous evening, the spacecraft accomplished a momentous touchdown on the moon's South Pole, establishing India as the pioneer in achieving this remarkable milestone.
"The Ch-3 Rover ramped down from the Lander, and India took a walk on the moon. More updates soon," Isro posted on X. Pawan K. Goenka, the chairman of the Indian National Space Promotion and Authorization Centre, which operates independently within the Department of Space (DOS), has shared the inaugural image of the six-wheeled robotic vehicle, Pragyan, emerging from Vikram.
The Lander and Rover, designed for a single lunar day mission (equivalent to 14 Earth days), are equipped with scientific instruments for lunar surface experiments.
The Rover carries two primary payloads: the LIBS (Laser Induced Breakdown Spectroscope) and the APXS (Alpha Particle X-Ray Spectrometer). The LIBS serves to qualitatively and quantitatively analyze elemental composition, offering insights into the chemical and mineralogical attributes of the lunar surface. Meanwhile, the APXS determines the elemental makeup (including magnesium, aluminum, silicon, potassium, calcium, titanium, and iron) of the lunar soil and rocks encompassing the landing site.
President Droupadi Murmu extended her congratulations to the ISRO scientists working on the Chandrayaan-3 initiative through a celebratory message. Using her official account on X, she shared her regards after the rover successfully emerged from the lander. President Murmu posted, "I once again congratulate the ISRO team and all fellow citizens for the successful deployment of the Pragyan rover from inside Vikram lander. Its rolling out a few hours after the landing of Vikram marked the success of yet another stage of Chandrayan 3."
"I look forward with excitement, alongside my fellow citizens and scientists, to the information and analyses that Pragyan will acquire and enrich our understanding of the moon," the post read.
Following the successful lunar touchdown achieved by the Indian Space Research Organization (ISRO), a Russian lander, Luna-25, experienced a crash on the moon's surface during its descent just a day prior. While participating virtually from the 15th BRICS Summit in Johannesburg, Prime Minister Narendra Modi engaged in monitoring the final moments leading to the Vikram lander's touchdown.
Upon the lander's gentle contact with the lunar south face, PM Modi's joyful expression and spirited waving of the national tricolor were visible. ISRO had been progressively sharing detailed images of the moon to aid the lander module in determining its precise position (latitude and longitude) through comparison with an onboard moon reference map.