"It is just a showoff by the INDIA alliance MPs who have gone to Manipur": Anurag Thakur tears into Oppn delegation
29 July, 2023 | Srishti Ruchandani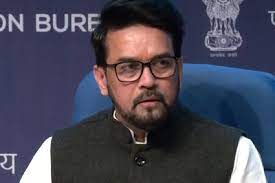 Anurag Thakur says, "It is just a showoff by the INDIA alliance MPs who have gone to Manipur. The opposition & its allies never spoke when Manipur."
Even as a delegation of Opposition leaders boarded a flight to Imphal for a two-day fact-finding visit to Manipur, Union Minister Anurag Thakur came down heavily on the newly formed I.N.D.I.A bloc saying they never spoke up when the Northeast state burned during their rule.
Speaking to ANI after touching down in West Bengal on Saturday, the BJP leader said, "This visit is just a showoff by the INDIA alliance MPs who have gone to Manipur. The Opposition alliance never spoke up when Manipur burned under previous governments." Hitting out at Congress Lok Sabha MP Adhir Ranjan Chowdhury, who is part of the 21-member delegation visiting Manipur on Saturday, Thakur asked if he was ready and willing to take fellow Opposition leaders to a similar visit to West Bengal, which had been witness to widespread violence and bloodshed during and after the panchayat elections earlier this month.

"Once they return from Manipur, I will request Adhir Ranjan Chowdhury to bring them to West Bengal as well. I want to ask him if he supports the atrocities on women in West Bengal," the Union Minister added.
Significantly, the delegation, apart from Congress leaders, also includes Parliamentarians from the Trinamool Congress, the ruling party in West Bengal which is facing allegations of atrocities on women and violence during and after the panchayat polls.
Also targeting Rajasthan Chief Minister Ashok Gehlot over recent crimes against women in the Congress-ruled state, Thakur said, "I wonder if the INDIA alliance is also lining up a visit to Rajasthan, which has been witnessing regular killings and crimes against women?"
A 21-member delegation from the grand Opposition alliance, I.N.D.I.A, is set to touch down at Imphal airport later on Saturday.
The visit, which the Opposition says is aimed at getting a sense of the situation on the ground in the Northeast state, follows a chorus from the Opposition members for a debate on the Manipur situation and a statement by Prime Minister Narendra Modi, which has resulted in repeated disruptions and adjournments in both Houses of Parliament.
The Northeast state has been racked by ethnic violence, which broke out over a Manipur High Court order asking the state government to consider adding the Meitei community to the list of Scheduled Tribes (STs).