Jaipur receives heavy rainfall, traffic hits, markets underwater
29 July, 2023 | Srishti Ruchandani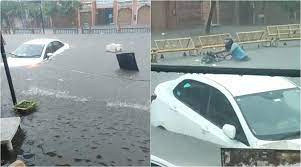 As the city grappled with rain woes, residents in many areas were forced to wade through knee-deep water to carry out their daily chores.
Heavy showers lashed Jaipur overnight on Friday, affecting normal life and throwing traffic out of gear.
Incessant rainfall, which began on Friday late at night, left several areas in the Pink City submerged. The markets of the walled city, including the renowned Parakode Bazaar, were flooded as rains continued to pound the state capital.
Both shopkeepers and shoppers were inconvenienced as rainwater gushed in and flooded their establishments.
The situation was no different on Sikar Road where waterlogged streets made commuting unsafe.
Further, several locations on the road were under knee-deep water, making it extremely challenging for pedestrians and motorists to commute.
As the city grappled with rain woes, residents in many areas were forced to wade through knee-deep water to carry out their daily chores